Toyota bZ4X vs Hyundai Ioniq 5 vs Volkswagen ID.4: range and charging
You can travel up to 300 miles on a charge in any of these impressive EVs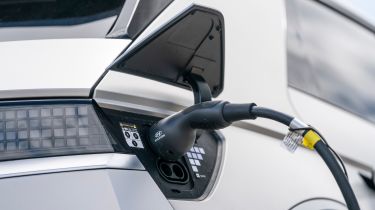 All versions of the Toyota bZ4X come with a 75kWh battery that has a usable capacity of 71.4kWh. If you buy the base front-wheel-drive model you'll get a range of around 300 miles out of it, depending on the exact specification, however all-wheel-drive bZ4Xs like the one we have here can cover roughly 280 miles on a charge.
Meanwhile, the Ioniq 5 is available with two different battery sizes. Entry-level models get a 58kWh unit, good for 240 miles' range. Those fitted with the larger 77.4kWh battery can cover 315 miles in rear-wheel drive form, or 282 miles if you opt for all-wheel-drive.
It's the same story with the ID.4. The Pure and Pure Performance powertrains feature a single electric motor and 52kWh battery for a range of just over 200 miles, while Pro or Pro Performance models can cover over 300 miles on charge thanks to the addition of a 77kWh battery. But, because the ID.4 GTX we have has a dual-motor setup, that reduces the car's range to 298 miles, which is still the longest of three cars here.
Surprisingly, all three of these all-wheel-drive electric family cars returned 3.4 miles per kWh during our time with them. That translates to a real-world range of around 263 miles for the Ioniq 5, which is just one more than the ID.4 should be able to cover. Then there's the bZ4X, which has the smallest battery here, so we calculated it will cover 243 miles on a full charge.
Charging
The Hyundai Ioniq 5's class-leading charging capabilities are well-known at this point; thanks to an 800-volt charging circuit the Ioniq 5 can reach speeds of up to 220kW, with a 10-80% top-up taking just 18 minutes if you use a suitable ultra-rapid charger. It's a particularly useful feature on longer journeys, with more charging points capable of those speeds popping up across the UK, it helps future-proof the Ioniq 5.
In comparison, the bZ4X's maximum charging speed is 150kW, while the ID.4 can only reach 135kW. Filling up both the Toyota and VW from 10-80% will take just over half-an-hour,  which isn't too bad, but not up to the Hyundai's charging speeds.
That said, the majority of the time you'll probably be plugging into a 7.4kW home wallbox to replenish your car overnight, where there's much less differences between these cars. Because it has the smallest battery, fully recharging the ID.4 from flat takes just over 12 hours. The same task is done in just under 13 hours for the bZ4X, and exactly 13 hours for the Ioniq 5 with its 77.4kWh battery.