Hyundai Ioniq 5 vs Ford Mustang Mach-E vs Volkswagen ID.4: verdict and specifications
While the ID.4 and Mach-E both have positives, neither can match the Ioniq 5's comfort, spaciousness or ultra-rapid charging capability, which put it above premium electric cars that cost twice as much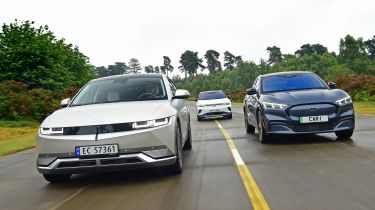 1st: Hyundai Ioniq 5 – 5.0 /5
Never mind it being the best electric car out of the three here, if you're looking for a new electric car, the Ioniq 5 rightfully deserves a place on your shortlist. Hyundai nailed it with its new electric family car, offering a near perfect combination of range, ultra-rapid charging capabilities, comfort, interior quality, comfort and technology. And that's all besides the fact the Ioniq 5 is a better head turner than some supercars. Read our full review for more.
2nd: Ford Mustang Mach-E – 4.0 /5
Although it has lost to the Ioniq 5 here, the Mustang Mach-E is still an excellent electric SUV. But in this Standard Range, rear-drive configuration, it doesn't match the practicality, charging speed or range on offer from the Hyundai. However, it still represents good value at this price point and is the most fun to drive of the three here, with enjoyable handling and performance on tap. Read our full review for more.
3rd: Volkswagen ID.4 – 4.0 /5
The ID.4 is the most practical and comfortable of this trio, and a worthy car to consider if you're in the market for an affordable electric SUV. But it finishes third in this test because it simply cannot keep up with the performance, handling, charging capabilities or interior quality of either the Ford or the Hyundai. Read our full review for more.
Specifications
| Car | Hyundai Ioniq 5 Ultimate 225kW AWD | Ford Mustang Mach-E Standard Range RWD | Volkswagen ID.4 1st Edition Pro Performance |
| --- | --- | --- | --- |
| List price/price as tested (July 2021) | £48,145 / £48,830 | £41,330 / £41,330 | £40,800 / £40,800 |
| Engine | Dual electric motors | Single electric motor | Single electric motor |
| Transmission | Single-speed, all-wheel drive | Single-speed, rear-wheel drive | Single-speed, rear-wheel drive |
| Battery capacity (total / usable) | 77 / 72.6 kWh | 75 / 70 kWh | 82 / 77 kWh |
| Power / torque | 321bhp / 605Nm | 265bhp / 430Nm | 201bhp / 310Nm |
| 0-62mph | 5.1 seconds | 6.9 seconds | 8.5 seconds |
| Top speed | 115mph | 111mph | 99mph |
| Annual electricity cost (12k/20k miles, August 2022) | £950 / £1,600 | £950 / £1,600 | £820 / £1,400 |
| Charging speeds | 3.7 / 11 / 220kW | 3.7 / 11 / 115kW | 3.7 / 11 / 135kW |
| Charging times | 23h 15m / 7h 45m / 18m | 21h 45m / 7h 30m / 38m | 24h 30m / 8h 15m / 34m |
| Official range | 282 miles | 273 miles | 328 miles |
| On-test efficiency / range | 3.4m/kWh / 247 miles | 3.5m/kWh / 238 miles | 3.4m/kWh / 262 miles |
| BiK rate / total for 20% taxpayer | 2% / £206 | 2% / £200 | 2% / £174 |
| Length / width / height / wheelbase | 4,635 / 1,890 / 1,605 / 3,000mm | 4,713 / 1,881 / 1,625 / 2,984mm | 4,584 / 1,852 / 1,612 / 2,771mm |
| Boot capacity (seats up/down) | 527 / 1,591 litres | 402 / 1,405 litres | 543 / 1,575 litres |