Hyundai Ioniq 5 vs Ford Mustang Mach-E vs Volkswagen ID.4: space and practicality
The ID.4 may offer the most boot space of this trio, but the Ioniq 5 triumphs thanks to its spacious feeling interior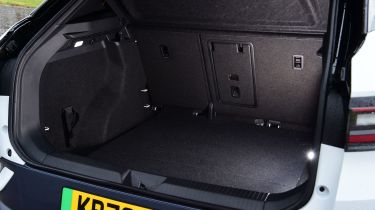 When it comes to practicality, the ID.4 has its rivals beat. With 543 litres of boot space on offer, it narrowly tops the Ioniq 5's 527-litre boot, while the Mach-E makes do with a mere 402 litres. When you fold the seats down, the ID.4 can pack up to 1,575 litres of stuff in. The Mach-E has a maximum storage capacity of 1,420 litres with the seats down, the Ioniq 5 offers up to 1,587 litres.
The Mach-E is the only car of the three here to have any storage under the bonnet; you can pack up to 100 litres of extra stuff in its 'frunk'. There's also a small storage space under the Ioniq 5's bonnet for the charging cables, which is handy. Plus, the Hyundai's rear seats can be moved back and forth to improve legroom or boot space.
Inside, the Ioniq 5 feels the most spacious of the three. That's partly because of clever cabin design, but also thanks to the flat floor and long wheelbase that mean there's more rear legroom on offer in this Hyundai than either of its rivals here – and many luxury saloons. The front seats are also unique, as they can fold almost completely flat and have calf support when reclined. Another plus point for the Ioniq 5 is its Vehicle-to-Load (V2L) functionality, which allows you to charge other electrical devices and appliances from the car's battery. The only negative against the Hyundai in this area is the rather large rear doors, which you'll need to bear in mind when parking in tight spaces.
The Mach-E's deceptive styling gives the SUV the appearance of a sportier, more coupe-like roofline. But it still offers plenty of rear headroom and space in the back for three people. Like the Hyundai, the Ford's interior also features plenty of clever storage places – particularly in the centre console.
The ID.4 also features plenty of rear leg and headroom, but due to the shape of the roofline, the windows in the back are small, which means there's less light than you might want. It's not dark, but it certainly doesn't help the ID.4 to feel as spacious as it could.