Hyundai Ioniq 5 vs Ford Mustang Mach-E vs Volkswagen ID.4: interior and infotainment
The Ioniq 5 stands out again with its elegant design and comfortable cabin, while the ID.4's frustrating infotainment system and user interface remain bugbears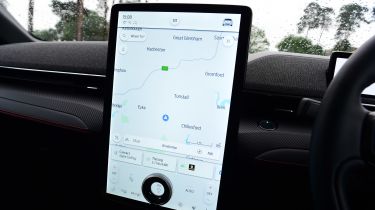 While the exterior of the Mach-E features several cues from the petrol-powered 'pony car' it shares its moniker with, the same cannot be said of the Ford's interior. Slapped in the centre of the Mach-E's dashboard is a gigantic, 15.5-inch infotainment touchscreen. Unlike the similarly sized central screen in the Tesla Model 3, the Mach-E's is portrait-orientated and can be difficult to use – both due to its vast size, and the fact that it isn't angled towards the driver. You'll need to take your eyes off the road for quite a while when accessing the climate control functions. But, unlike the Model 3, the Mach-E gets a separate driver's display for information like speed, which many might prefer. Overall, the Mach-E's cabin is good, even if too much of the switchgear is shared with the much cheaper Ford Fiesta, and it certainly feels more upmarket than the ID.4's.
In terms of interior quality, the Volkswagen is somewhat disappointing given the brand's history of high-quality cabins. The material choice simply isn't on par with its rivals here, and the minimalist design is neither elegant or practical. UK buyers currently get a soulless black and grey colour scheme, to make matters worse. And while both the steering-column-mounted digital driver's display and central infotainment are sharp and have plenty of features, the infotainment system is cumbersome; even more irritating is the fact that almost all functions are controlled via the touchscreen. Or worse still, the touch-sensitive sliding bars underneath it.
But in terms of interior quality, neither the Ford nor the VW can touch the Hyundai's superb finish and comfort. The Ioniq 5's relaxing cabin is perfectly suited to its calm cruiser driving style, as opposed to being anything sporty like the Mach-E. The seats are wonderfully soft and the interior remains quiet on the road, with little wind or noise at speed. Speaking of the seats, you can fully recline them, potentially so you can take a nap when you're recharging.
The Ioniq 5's infotainment system is like most you'll find in modern Hyundais, but with far cleaner graphics for the 12.3-inch central infotainment screen and digital driver's display, although they lack the tack-sharp resolution of Tesla's screens. What more than makes up for that shortfall is how well the driver assistance is integrated. For example, models equipped with blind-spot cameras display the images in real time in the instrument panel when the indicators are turned on.