Hyundai Ioniq 5 vs Ford Mustang Mach-E vs Volkswagen ID.4: running costs and warranty
All three models have low running costs, including company-car tax, but the top-spec Ioniq 5 sits in a very high insurance group, which could cost you more down the line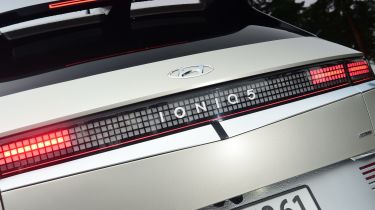 Like all electric cars, not only are service intervals for this trio much longer than equivalent petrol or diesel models, maintenance costs are generally lower, too, while they're all also exempt from the London Congestion Charge and road tax (VED) for the time being.
All three have a 1% Benefit-in-Kind (BiK) tax rate, so a 20% taxpayer will pay only £81 a year in company-car tax for the 1st Edition variant of the ID.4, while the versions of the Ioniq 5 and Mach-E tested have annual BiK bills of £96 and £83 a year respectively.
These three cars are also comparable when it comes to efficiency, as both the ID.4 and the Ioniq 5 returned 3.4 miles per kWh during our time with them. That means it'll cost about £459 a year to charge up for 12,000 miles of driving, at a typical home energy cost of 13p per kWh. The Mach-E did slightly better, returning 3.5 miles per kWh, which equates to around £446 a year to cover 12,000 miles on the same energy tariff. Of course, those costs could be reduced even further with the use of a dual-rate energy tariff.
Where things become less equal is insurance. While the ID.4 and Mach-E we tested sit in insurance groups 31 and 33 respectively, the far more expensive, top-of-the-range Ioniq 5 lands itself in group 44 out of 50, For reference, the also pretty expensive Polestar 2 sits in insurance group 42. However, that's just the models we tested. Lesser versions of the Ioniq 5 are rated as low as group 35, the entry-level ID.4 is in group 22, while the most expensive Mach-E available at the moment lands in group 40.
What might make up for its high insurance group is the Hyundai's comprehensive five-year/unlimited-mileage warranty, which should give you peace of mind. It's not as lengthy as Kia's seven-year warranty, but it beats the three-year/60,000-mile warranty that comes as standard on the VW and Ford. But the ID range does get three years of breakdown cover as standard, which is better than the one year you get with the other models here.