Ford Mustang Mach-E range, battery & charging
The Mustang Mach-E has very good range figures regardless of which version you go for, along with the necessary rapid-charging capability to make long-distance trips feasible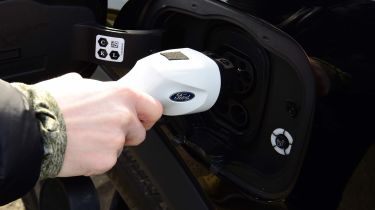 | Model | Range | Wallbox charge time | Rapid charge time |
| --- | --- | --- | --- |
| Standard Range | 249-273 miles | 11hrs (0-100%, 7.4kW) | 38mins (10-80%, 115kW) |
| Extended Range | 336-379 miles | 14hrs (0-100%, 7.4kW) | 43mins (10-80%, 150kW) |
Even the shortest-range version of the Mustang Mach-E hit very nearly 250 miles of range on a charge in official testing, so this is definitely one of the longer-legged electric cars out there, able to go toe-to-toe with equivalent Teslas when it comes to doing longer journeys. Charging speeds don't quite hit the latest Tesla or Porsche Taycan heights, but do allow you to take full advantage of the vast majority of UK public rapid chargers.
Ford Mustang Mach-E range
For the best possible range, go for the Extended Range rear-wheel-drive car, which has an official figure of 379 miles – one of the very longest ranges of any currently available pure-electric car. Adding a second motor by choosing the four-wheel-drive version gives you more power and pace, but also reduces the potential maximum to 336 miles, which is still not too shabby at all.
The cheaper Standard Range car still returns respectable figures of 273 miles in rear-wheel-drive form or 249 miles as a four-wheel drive. On test, our Standard Range rear-drive example averaged 3.5 miles per kWh, meaning 238 miles on a charge would be realistic; that compares to the 273-mile official claim for this version.
Charge time
Using just a regular three-pin domestic socket to top up the Standard Range Mach-E's battery will take a little under 22 hours, but this method of charging is not really recommended except in emergency situations. Most owners are almost certain to have a faster 7kW home wallbox charger, which reduces the time to 11 hours for the Standard Range and 14 hours for the Extended Range, so overnight replenishment is easily done.
When you're out and about, both versions can make use of DC rapid charging for swift top-ups from public points. The Standard Range's maximum rate is 115kW, while the Extended Range compensates for a larger battery with faster 150kW charging speed; the upshot of this is that both versions take in the region of 40 minutes to go from 10 to 80% battery capacity at a public point.