Ford Mustang Mach-E performance, motor, top speed
The Mustang Mach-E will be quick enough for most drivers and handles well for something this size, but the proper 'GT' performance version is yet to arrive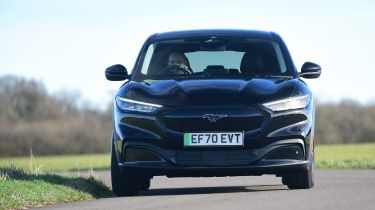 | 0-62mph | Top speed | Driven wheels | Power |
| --- | --- | --- | --- |
| 5.8-7.0s | 111mph | Rear or four | 266-346bhp |
The Mustang Mach-E is fast – not quite Tesla-fast (at least for the moment) – but quick enough to keep up with and even overhaul some ostensibly much sportier petrol or hybrid models. It also handles well for a relatively large SUV, but the trade-off for this is a ride that can feel on the harsh side; the steering isn't the most communicative, either.
Ford Mustang Mach-E 0-62mph, top speed and acceleration
Performance is strong regardless of which battery or drive option you go for. Standard Range cars have 266bhp, with the four-wheel-drive version lending more torque for swifter acceleration. Rear-drive Extended Range cars up this to 290bhp, while top-of-the-range four-wheel-drive Extended Range Mach-Es get a total of 346bhp.
Performance from this most powerful version is good: 0-62mph is done in 5.1 seconds and there's power easily accessible whenever and wherever you need it. Those who want to go faster will have to wait for the forthcoming Mustang Mach-E GT, which promises 480bhp and a massive 860Nm of torque in a bid to take on Tesla and its famously accelerative line-up.
Get underway in the Mach-E and at low speed there's very little noise from the electric motors. The throttle has immediate response and it's easy to tap into the power available. There are three driving modes, called Whisper, Active and Untamed; the first of these is the most pleasant in our view, making the car smoother to drive and cutting off the slightly silly sound synthesiser that aims to reproduce the noise of a petrol V8 engine.
There's also a 'one-pedal driving' setting that allows for very relaxing progress around town: you simply lift off the accelerator to slow down and come to a stop. At higher speeds on the motorway, you can enjoy the Mach-E's great refinement, with only a bit of front-end wind noise really worth mentioning.
Handling
The Mach-E's silent yet punchy performance is matched by a chassis that has more of a focus on eliminating body roll than many SUVs of this size. The trade-off, however, is suspension that feels a little too firm for UK roads, never really settling down on rougher surfaces.
And while Ford has a strong recent record for creating cars with very nice steering brimming with feedback, the Mach-E's system doesn't quite continue the trend, feeling vague around the straight-ahead and being a bit too keen to respond to inputs beyond that. It's particularly odd in Untamed mode.