Citroen C-Zero (2010-2018) interior & comfort
The Citroen C-Zero is more spacious than it looks from the outside, but inside it really shows its age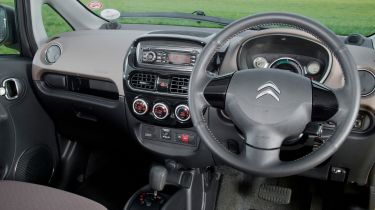 The Citroen C-Zero will comfortably seat four adults, which is quite an achievement for a car that's less than 3.5 metres long. This is thanks to the battery being located in the floor, freeing up space that would be taken up by bulkier features in a petrol or diesel car.
The seats themselves are finished in camel cloth as standard, and while they're reasonably comfortable, they do feel a little cheap. At low speeds, the C-Zero is a relaxing place to sit thanks to its quietness, although at higher speeds a high-pitched noise from the electric motor becomes audible. Tyre noise also becomes more of an issue the faster you drive.
Citroen C-Zero dashboard
The digital dashboard on the C-Zero adopts a minimalist design, clearly displaying the battery charge, remaining range, and vehicle speed. The DAB digital radio and CD player are located on the centre console, which also houses controls for the air-conditioning. It all looks very dated and feels rather cheap compared to any of the Citroen's more modern rivals.
Equipment, options and accessories
Standard equipment included anti-lock brakes, remote central locking, electric door mirrors, automatic lights, tinted windows, a leather steering wheel and gearknob, front and rear carpet mats, tyre-pressure sensors and front and rear electric windows. There was also a Comfort Pack option, which added a heated driver's seat and heated mirrors at no extra cost.
The C-Zero's only true optional extra provided remote-control heating and air-conditioning (allowing you to pre-heat or pre-cool the car) as well as the ability to programme when the car begins to charge. You're also be able to check the charging progress remotely with this feature.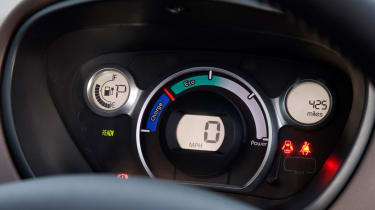 Infotainment, apps & sat nav
The lack of an infotainment screen or sat nav system betrays just how old the Citroen C-Zero is, and how far it was behind by newer models even when it was still on sale.
Smartphone connectivity is available via Bluetooth, although there's no Android Auto or Apple CarPlay. It's all very basic technology that feels out of date next to the systems offered in the Smart EQ ForFour, Volkswagen e-up! and Renault ZOE.