Citroen C-Zero (2010-2018) electric motor, drive & performance
The Citroen C-Zero is quick at town speeds, but sluggish acceleration after 30mph means it struggles on faster roads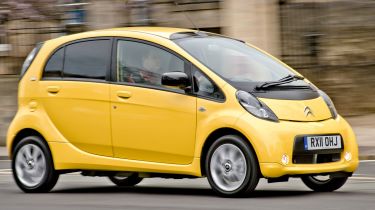 | 0-62mph | Top speed | Driven wheels | Power |
| --- | --- | --- | --- |
| 15.9s | 81mph | Front | 66bhp |
The Citroen C-Zero is perfectly suited to driving in towns and cities. On urban roads up to 30mph, it's brisk and willing, and bursts of acceleration make it ideal for start-stop traffic. Only on high-speed roads does the C-Zero begin to feel out of its comfort zone.
A 0-62mph time of 15.9 seconds means it's ill-suited to motorway driving, but that's not where the C-Zero is designed to thrive. The handling also leaves a lot to be desired. The body of the C-Zero leans in corners, which makes it feel less agile than some of its more capable rivals. The ride is also very firm, so you'll likely feel most of the bumps in the road.
Citroen C-Zero electric motor, 0-62mph and acceleration
The C-Zero has a 66bhp electric motor. Acceleration from 0-62mph takes 15.9 seconds, and while this is fairly pedestrian by modern standards, acceleration at low speeds it actually quite decent. After the initial burst from a standing start, the acceleration tails off and the C-Zero gradually winds up to its top speed of 81 mph. Not that you'd want to stay at that for long: drawing a constant 49kW from the battery means you'd be out of power in less than 20 minutes.
Handling
The C-Zero's performance has its merits in an urban environment: it's quiet on the move and that makes it very relaxing to drive, especially in busy traffic. The automatic gearbox helps to this end as well, with only two pedals in the form of an accelerator and a brake.
The vague steering is where the C-Zero falls short, making precision through corners difficult to achieve. The car leans through turns noticeably as well, making it less fun to drive than some of its more versatile rivals. The suspension struggles, too, with the hard ride suffering whenever the road is anything other than completely smooth.