Citroen C-Zero (2010-2018) running costs
It costs a matter of pence to fully charge the Citroen C-Zero, which is Congestion-Charge-exempt in London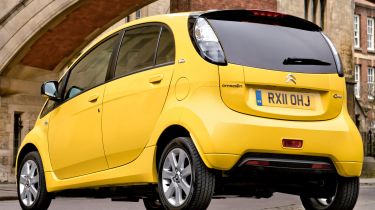 | Insurance group | Warranty | Service intervals | Road tax |
| --- | --- | --- | --- |
| 28 | 3yrs / 60,000 miles | 1yr / 12,500 miles | £0 |
At typical household electricity prices, the C-Zero will only cost around £2 to charge fully, giving you some 65 miles of range. Fuel for a similarly sized petrol or diesel car might cost several times as much. As an electric car, the Citroen C-Zero emits no CO2, which means it qualifies for exemption from the London Congestion Charge. Registering for the discount costs just £10 a year, and will save you the daily £11.50 fee for driving in the zone.
Citroen C-Zero insurance group
The Citroen C-Zero sits in insurance group 28, with a note indicating that the security features on the car fall a long way behind what should be expected of a modern vehicle. In comparison, the Volkswagen e-up! sits in group 11, while the BMW i3 lies in group 27.
Warranty
The C-Zero was sold with a warranty lasting three years or 60,000 miles; whichever was reached first. The battery and drivetrain have separate warranties: the former for eight years or 60,000 miles, and the latter for five years or 40,000 miles.
Servicing
The Citroen C-Zero needs to be serviced every year or 12,500 miles, with some jobs – such as the checking of electrical power cables and replacement of the brake fluid – needing to be done every two years or 25,000 miles. The coolant needs replacing every 20 years according to Citroen, with the same period attributed to the draining of the heating circuit.
Road tax
You won't need to pay road tax on the Citroen C-Zero, as it's a zero-emissions electric car.