Citroen e-C4 X review
The fastback body of the comfort-oriented Citroen e-C4 X offers more practicality than the e-C4 hatch for the same price, though some might not been convinced by the styling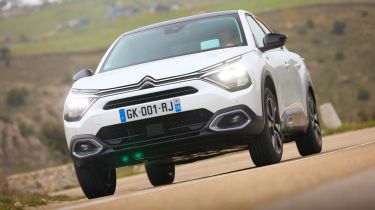 Pros
Comfortable and refined
Boot space
Same price as e-C4
Cons
No hatchback
Styling
Infotainment
| Car type | Range | Wallbox charge time | Rapid charge time |
| --- | --- | --- | --- |
| Electric | 222 miles | 7hrs 30mins (0-100%, 7kW) | 30mins (10-80%, 100kW) |
The Citroen e-C4 is already a very capable, if slightly unconventional looking electric family car. But what would happen if you stretched out the body a little and ditched the traditional hatchback in favour of a saloon style boot? Well that's how Citroen created the new e-C4 X fastback.
It's practicality rather than styling that separates the e-C4 and e-C4 X, as the two look nearly identical until you venture beyond the B-pillar. By stretching the rear of the regular C4 by 240mm, Citroen has managed to increase boot space from 380 litres to 510 litres in the X. But as mentioned, the electric-only fastback doesn't feature a hatchback, instead you get a more restrictive saloon style opening. 
You do at least get some additional carrying space under the boot floor, ideal for housing the car's charging cables. But there's no extra storage under the bonnet because that's where you'll find the electric motor and other components.
As all of the growth is in the X's rear overhang, not the wheelbase, and the e-C4 already had a very heavily sloped roofline, there isn't that big of an increase in rear passenger space. At least the more steeply reclined seats do make it feel spacious in the rear. For extra luggage space, you can fold the rear bench down in the typical 40/60 split but the seats don't fold flat.
Things aren't looking great for the e-C4 X so far, but its comfort-focused nature is likely to win some over. It uses the French marque's 'Progressive Hydraulic Cushions' suspension setup that includes hydraulic bump stops to soak up imperfections in the road. The soft damping means there is a noticeable amount of body roll when cornering, but to us it's a fair trade-off for the smooth ride. Refinement is great, too, further contributing to the relaxing driving experience we expect from modern Citroens. 
Straight-line performance is modest, with just 134bhp available from a single electric motor 0-62mph takes nearly 10 seconds. Far from Tesla levels of acceleration, but it'll be quick enough for most day-to-day use. We did notice a slight delay between the throttle pedal being pressed and the car accelerating, likely included for a smoother driving experience. You can flick the e-C4 X into Sport mode, but this makes little if any difference to how the power is delivered, while throttle response in Eco mode is noticeably softer.
It's a shame that rather than using the recently updated Vauxhall Mokka Electric's powertrain, the e-C4 X relies on the e-C4's familiar setup. So you get a single electric motor for the front wheels powered by a 50kWh battery pack, which according to Citroen is enough to cover 222 miles on a charge – just three miles further than the standard e-C4 can manage.
The maximum DC charging speed is 100kW (same as the e-C4) and allows for a 10-80% charge in around 30 minutes, while a regular 7.4kW home wallbox will take around seven-and-a-half hours to fully recharge the battery. 
Inside, the cabin is identical to the regular e-C4. It's certainly not as quirky as some Citroens of old, but many will appreciate the logical layout and solid build quality, if not the chunks of hard plastics dotted around the place. The highlights of the cabin are the front seats, which feature special 15mm high-density foam pads for additional comfort. After many hours spent driving the car, we can confirm that they work.
Citroen's infotainment systems have never been the best around, and it's the same story here. This latest interaction is a step in the right direction, but there's room for improvement. One very odd quirk is that the software doesn't allow you to move the sat-nav map around or pinch zoom with your fingers. Thankfully, all models come equipped with Apple CarPlay and Android Auto.
The 10-inch central touchscreen is coupled with a small, simple digital driver's display and, on higher spec cars, a head-up display. It's not an augmented reality system or one that's projected onto the windscreen, instead it uses a transparent piece of plastic that rises out of the dashboard. It's effective, just a bit behind the times in 2023.
The range kicks off with the entry-level e-C4 X Sense at £31,995, which is not only less than you'd pay for a new Volkswagen ID.3 at the moment, it's the same price as the base e-C4. So unless the styling or boot opening truly offends you, you might as well go for the X.
Standard kit on Sense models includes 18-inch alloy wheels, Citroen's Advanced Comfort Seats, keyless go, plus that 10-inch touchscreen with Apple CarPlay and Android Auto we mentioned earlier. The e-C4 X Shine costs an extra £2,500 and brings an upgraded infotainment system with navigation and voice control, as well as a head-up display and reversing camera. It also features automatic high-beam technology, and a heated steering wheel.
Topping the lineup is the Citroen e-C4 X Shine Plus, which for an extra £1,000 (£35,495) gets Alcantara trim for the front seats, plus extra safety kit including adaptive cruise control. All versions get Active Safety Brake, Speed Limit Information, Lane Keeping Assist, Forward Collision Warning and Driver Attention Alert.
We wish the Citroen had gone with a hatchback opening on the e-C4 X, but the electric fastback does manage to add more practicality over the already likeable e-C4 without any price premium. It's comfortable and refined, too, so despite its foibles we expect a few people will be drawn to it when shopping for their next electric family car.