BMW iX5 Hydrogen fuel-cell SUV could kickstart FCEV range
Hydrogen fuel-cell version of BMW X5 has been undergoing cold-weather testing before a limited number are produced for "for demonstration and testing purposes"
BMW has been putting the hydrogen fuel-cell version of its X5 SUV through its paces in northern Sweden, close to the Arctic Circle, before production of a limited number begins later this year.
However, the iX5 Hydrogen isn't intended for showrooms as is. Instead, the few that are made will be supplied to a select few individuals across the globe so they can be driven in the real-world, and "for demonstration and testing purposes". 
BMW has previously said it won't be offering fuel-cell cars for sale to the public until 2025 at the earliest, but it seems the brand is committed to hydrogen technology. In fact, along with the images of the iX5 Hydrogen testing, the German carmaker teased: "BMW i – as a brand focused entirely on mobility producing zero local emissions – could in future offer vehicles with a hydrogen fuel-cell drive system alongside its battery-electric models."
The iX5 Hydrogen combines a fuel cell with the fifth generation of BMW's eDrive electric powertrain technology, which can already be found in the iX3 and iX SUVs, as well as the i4 saloon. The result is a total power output of 369bhp, with the only emissions being water vapour and waste heat, which is used to warm the cabin. 
BMW says that during cold-weather testing, even at minus 20 degrees, the iX5 Hydrogen could still hit its full driving range, which the company has previously suggested to be around 400 miles. Replenishing the two hydrogen fuel tanks takes just three to four minutes.
Both attributes will be critical, as BMW believes hydrogen fuel-cell vehicles present an attractive alternative to traditional battery-electric vehicles (BEV) for those who regularly use their cars for long journeys or don't have access to charging points. Another advantage is the iX5 Hydrogen weighs less than a comparable EV.
BMW has also reiterated its commitment to expanding the number of hydrogen fuelling stations – which in the UK currently stands at 10. Frank Weber, BMW's board member for development said: "For us to be able to offer our customers a fuel-cell drive system as an attractive sustainable mobility solution, a sufficiently extensive hydrogen infrastructure also needs to be in place."
BMW and Toyota (which makes the Mirai) have been working together to develop a drive system using hydrogen fuel-cell technology since 2013, teaming up with a number of energy and transport companies to set up a 'Hydrogen Council' in 2017 to push for the adoption and infrastructure of hydrogen fuel-cell vehicles.
And these aren't the only brands dipping toes in the world of hydrogen: Land Rover has announced  development of a hydrogen fuel-cell prototype based on the Defender, while hydrogen-powered versions of the Renault Master and Vauxhall Vivaro-e vans will be arriving in 2022 and 2023 respectively. Both Hyundai and British firm BAC are working on fuel-cell sports cars, too.
New Audi Q6 e-tron electric SUV spotted ahead of 2023 debut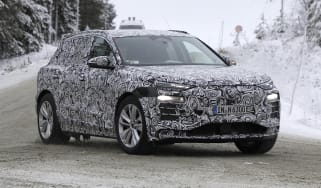 New Audi Q6 e-tron electric SUV spotted ahead of 2023 debut
Electric MINI Aceman crossover arriving in 2024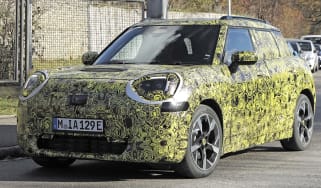 Electric MINI Aceman crossover arriving in 2024
Volkswagen ID.3 facelift due in spring 2023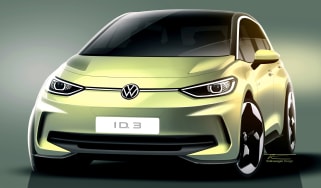 Volkswagen ID.3 facelift due in spring 2023
New sketches provide a glimpse at refreshed styling and cabin of Volkswagen's electric family hatchback
Tesla Semi truck showcases 500-mile range as first examples delivered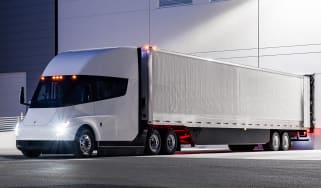 Tesla Semi truck showcases 500-mile range as first examples delivered
The Tesla Semi made its world debut in November 2017, and will become part of Tesla's own fleet