BMW iX5 Hydrogen: first drive in BMW's hydrogen fuel-cell SUV
We get behind the wheel of a hydrogen fuel-cell version of the BMW X5: is this the next giant leap for zero-emission cars?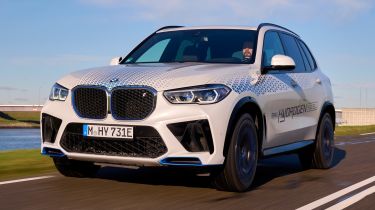 Despite electric and hybrid cars booming in popularity over the past two decades or so, hydrogen-powered vehicles have struggled to find a foothold. However, BMW is one of the few brands that have dared to dip its toes into the world of hydrogen fuel-cell technology, and the result of the company's efforts is this: the iX5 Hydrogen.
This hydrogen fuel-cell version of the BMW X5 SUV isn't intended for showrooms as is. Instead, the 100 examples being made (a handful of which are coming to the UK) will be hitting the roads this spring, serving as rolling laboratories to see if hydrogen has a place in the future of cars. 
BMW has previously said it won't be offering fuel-cell cars for sale to the public until 2025 at the earliest, but it seems the brand is committed to hydrogen technology, having also stated: "BMW i – as a brand focused entirely on mobility producing zero local emissions – could in future offer vehicles with a hydrogen fuel-cell drive system alongside its battery-electric models."
The iX5 features two carbon-fibre reinforced plastic tanks that can hold almost 6kg of hydrogen in total, which feeds the fuel cell mounted under the bonnet. This is what converts the hydrogen fuel into electricity through a chemical reaction, with the energy then stored in a battery. The battery can also be charged using kinetic energy recovered from slowing down, like in an electric car.
That electricity is what powers the electric motor driving the rear wheels. It's the fifth generation of BMW's eDrive electric powertrain technology, which can already be found in the i4 saloon and iX1 SUV, as well as the i7 limousine. The result is a total power output of 396bhp, with the only emissions being water vapour and heat, the latter is used to warm the cabin. 
The iX5 Hydrogen's range is around 311 miles, according to BMW. That's not as far as the 380 miles the fully electric BMW iX can cover on a single charge, but compared to the EV which requires around half an hour to be topped up from 10-80%, fully replenishing the two hydrogen fuel tanks in the iX5 takes just three to five minutes.
BMW iX5 Hydrogen review
There are just a handful of visual changes to distinguish the iX5 hydrogen from a regular (pre-facelift) X5, such as the blue accents and blocked-off grille. The road-going experiment also uses 3D-printed components on the lower body and bumper, and rides on a set of 22-inch aerodynamic alloy wheels with more blue flashes. 
Despite the additional hydrogen gubbins, the battery and the motor, space inside is no different to a conventional X5, which means the iX5 is roomy. This is thanks to one of the hydrogen tanks being fitted under the rear seats, with the other located in the transmission tunnel. Boot space doesn't appear to have been badly affected either.
From behind the wheel, the iX5 Hydrogen behaves a lot like the electric iX3 and iX SUVs it shares some of its running gear with. It moves away silently and is pretty brisk thanks to decent torque and the fact it's slightly lighter than an equivalent battery-electric car. It still weighs around 2.5 tonnes, yet 0-62mph takes less than six seconds. 
Partnership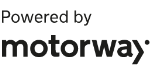 Need to sell your car?
Find your best offer from over 5,000+ dealers. It's that easy.
But rather than awe-inspiring performance, it's the refinement on offer that astounded us, as well as the soft ride from supple suspension that smoothes out any bumps or cracks in the road. Put simply, the iX5 Hydrogen feels luxurious rather than particularly dynamic; being a big heavy SUV the hydrogen-powered X5 does feel a little cumbersome at times. The steering is light and precise, grip is good, and body roll is kept largely in check, though.
The biggest chink in its armour is the same as all hydrogen-powered we've driven: filling up. The task itself couldn't be easier, as you simply open the filler flap at the rear, click the nozzle into place and lock it with a lever, before pressing a start button on the pump. Then, three to five minutes later, you're on your way again.
However, finding a hydrogen filling station could prove tricky, as the infrastructure in the UK has in fact been receding in recent years, rather than expanding. There are currently just six operational filling stations for cars, and only three more under construction. This explains why only a very small number of the 100 iX5 Hydrogens will be sent here.
As a result, while the iX5 Hydrogen demonstrates the potential and benefits of fuel cell technology in cars, hydrogen infrastructure still has a long way to go before the future we get a glimpse of here comes to fruition.
Future BMW hydrogen car plans
BMW believes hydrogen fuel-cell vehicles present an attractive alternative to traditional battery-electric vehicles (BEV) for those who regularly use their cars for long journeys or don't have access to charging points. 
BMW has previously declared its commitment to expanding the number of hydrogen fuelling stations – which in the UK currently stands at six, down from 10 this time last year. Frank Weber, BMW's board member for development said in 2022: "For us to be able to offer our customers a fuel-cell drive system as an attractive sustainable mobility solution, a sufficiently extensive hydrogen infrastructure also needs to be in place."
BMW and Toyota (which makes the Mirai) have been working together to develop a drive system using hydrogen fuel-cell technology since 2013, teaming up with a number of energy and transport companies to set up a 'Hydrogen Council' in 2017 to push for the adoption and infrastructure of hydrogen fuel-cell vehicles.
And these aren't the only carmakers experimenting with hydrogen: Land Rover announced it was developing a hydrogen fuel-cell prototype based on the latest Defender, while hydrogen-powered versions of the Renault Master and Vauxhall Vivaro Electric vans have been unveiled. Hyundai is also working on hydrogen fuel-cell cars, including a production version of its internet-breaking N Vision 74 concept.
First contact: facelifted Kia EV6 will look even more like a UFO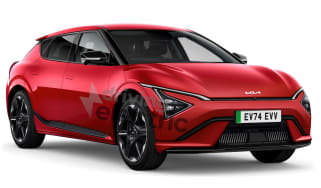 First contact: facelifted Kia EV6 will look even more like a UFO
Top 10 best electric family cars 2023/2024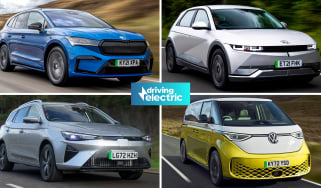 Top 10 best electric family cars 2023/2024
First contact: facelifted Kia EV6 will look even more like a UFO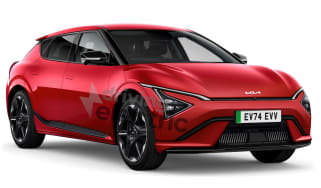 First contact: facelifted Kia EV6 will look even more like a UFO
Kia is readying an update for the EV6 crossover, which is set to include a new face and tech from the larger EV9
Electric Renault Twingo revealed as £17k rival to Citroen e-C3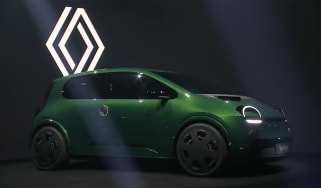 Electric Renault Twingo revealed as £17k rival to Citroen e-C3
Renault has unveiled its smallest EV yet; a sub £20k city car with a claimed high level of efficiency
New Fisker Ocean Sport washes up in the UK: £36k for a 288-mile range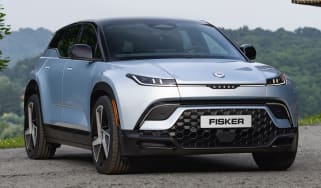 New Fisker Ocean Sport washes up in the UK: £36k for a 288-mile range
American EV startup Fisker has just launched its entry-level Ocean SUV in the UK, with a range of up to 288 miles