BMW hydrogen fuel-cell SUV begins real-world testing
BMW's hydrogen fuel-cell prototype has begun testing on European roads; brand expects production version to go on sale in 2025
BMW has begun testing its hydrogen fuel-cell SUV on European roads, with a limited run of X5s featuring the brand's i Hydrogen NEXT powertrain expected to arrive in late 2022.
Rear-world testing of the X5-based hydrogen fuel-cell prototype will determine how the CO2-free drivetrain performs, as well as how the car's chassis technology and electronics work together in real-world conditions. Testing in everyday situations will also help BMW fine-tune the software in the car that controls the powertrain and other functions.
The X5-based SUV combines a hydrogen fuel cell with the fifth generation of BMW's eDrive electric powertrain technology that can already be found in the iX3, as well as the forthcoming iX and i4. The result is a total power output of 369bhp.
The i Hydrogen NEXT uses a 6kg hydrogen tank that BMW claims will ensure a range of "several hundred kilometres in all weather conditions" and three to four-minute refuelling times. Both attributes will be critical as BMW believes hydrogen fuel-cell vehicles present an attractive alternative to traditional battery-electric vehicles (BEV) for those who regularly use their cars for long journeys or don't have access to charging points.
The limited run of hydrogen fuel-cell X5s will be produced from 2022, but the company says it won't be offering fuel-cell cars to buyers until 2025 at the earliest. Board member Klaus Frohlich previously stated: "Hydrogen as energy carrier must first be produced in sufficient quantities at a competitive price using green electricity. 
"Hydrogen will then be used primarily in applications that cannot be directly electrified, such as long-distance heavy-duty transport".
BMW initially unveiled the hydrogen fuel-cell concept in 2019 at the Frankfurt Motor Show, although it has been working with Toyota to develop a drive system using hydrogen fuel-cell technology since 2013. The two brands also teamed up with a number of energy and transport companies to set up a 'Hydrogen Council' to push for the adoption and infrastructure of hydrogen fuel-cell vehicles.
And BMW isn't the only brand dipping its toes into the world of hydrogen, with Land Rover also announcing its development of a hydrogen fuel-cell prototype based on the Defender. However, there are only 11 hydrogen refuelling stations currently in operation in the UK.
Living with a BMW X5 xDrive45e PHEV
Living with a BMW X5 xDrive45e PHEV
Top 10 best plug-in hybrid SUVs 2021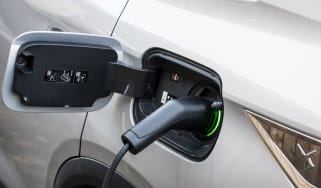 Top 10 best plug-in hybrid SUVs 2021
The finest plug-in hybrid SUVs offer low running costs, enough electric range for daily use and excellent practicality. These are the best plug-in hyb…
Top 10 longest range electric cars 2021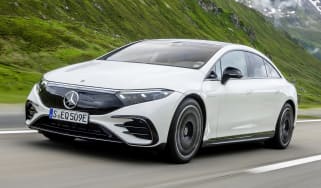 Top 10 longest range electric cars 2021
Avoid range anxiety by choosing one of these: the longest-range electric cars you can buy in the UK right now
Top 10 best plug-in hybrid cars 2021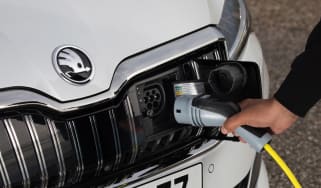 Top 10 best plug-in hybrid cars 2021
Plug-in hybrid cars are great for keeping fuel and company-car tax bills low. Here are the best ones to buy in the UK right now