BMW 330e 2020: four-wheel-drive version added to hybrid range
Plug-in hybrid BMW 3 Series drivetrain now also offered in Touring estate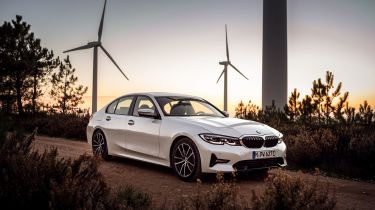 BMW is adding the option of 'xDrive' four-wheel drive to its 330e plug-in hybrid saloon, as well as offering both the existing rear-wheel-drive and new four-wheel-drive configurations in Touring estate form for the first time.
The option of four-wheel drive, as well as a Touring estate with either drivetrain, will be available to UK buyers from summer 2020, with exact pricing and specification details still to be confirmed. The current SE, Sport and M Sport line-up is likely to continue, though.
Both the rear and four-wheel-drive versions use the same existing 249bhp, 2.0-litre, four-cylinder, petrol-electric drivetrain, which can deliver 288bhp in a short burst of up to 10 seconds using a function called 'XtraBoost'. The standard 12kWh battery delivers an electric range of up to 42 miles for the rear-drive 330e and 36 miles for the four-wheel-drive car.
The 330e xDrive saloon is expected to return 166mpg and will emit 38g/km of CO2 – a slight increase on the 37g/km emitted by the rear-wheel-drive version. Acceleration from 0-62mph takes 5.8 seconds, which is three tenths faster than the rear-drive car, while top speed is slightly down, at 139 versus 143mph.
The same range of driving modes found in the rear-drive 330e is available in the four-wheel-drive version, with 'Hybrid' mixing petrol and electric power for maximum efficiency, 'eDrive' delivering zero-emissions running on battery power only and 'Sport' sacrificing some efficiency to deliver maximum performance. Maximum pure-electric speed is 68mph in Hybrid mode and 87mph in eDrive mode.
Charging happens while driving thanks to the cars' brake-energy recuperation system, while a full recharge can be completed from a public charging point or BMW i home wallbox. The latter can top up the battery to 80% capacity in 2.4 hours, or 100% in 3.4 hours. Charging from a domestic power socket with a three-pin plug is also possible, with corresponding charge times of 4.2 and 5.7 hours for an 80 or 100% charge respectively.
The new 330e models join an expanding BMW plug-in hybrid range, which will shortly encompass the X1 and X2 compact SUVs, as well as the larger X3 and X5 SUVs, the 530e and 745e luxury saloons and the 225xe family car.
BMW 3 Series electric: details and pictures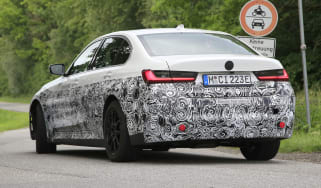 BMW 3 Series electric: details and pictures
New 2020 Ford Kuga hybrid: prices, details and specs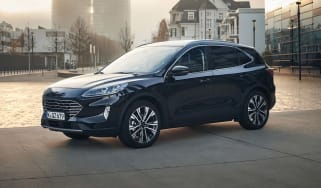 New 2020 Ford Kuga hybrid: prices, details and specs
Prices and efficiency figures have been announced for the Ford Kuga, with mild-hybrid, full-hybrid and plug-in-hybrid technology all offered
Best small electric cars 2020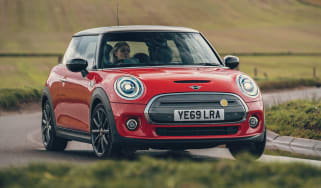 Best small electric cars 2020
A compact electric vehicle makes a perfect urban runabout or small family car. These are the best small electric cars you can buy
Best seven-seater electric and hybrid cars 2021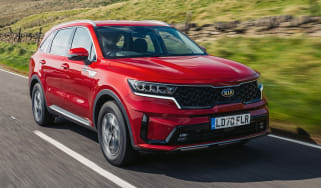 Best seven-seater electric and hybrid cars 2021
Family cars must be practical, and there are lots of seven-seat electric and hybrid models that offer exactly that