Top 10 best Motability hybrid cars 2022
Full and plug-in hybrids are all now offered on the Motability scheme, for those who are looking to reduce fuel consumption and emissions but can't make the switch to electric yet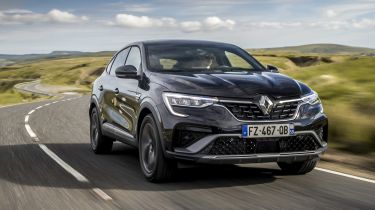 Motability cars are available for people with reduced mobility and disabilities to help them get a new car. A wide list of models is available, including hybrid cars, which are cheap to run, practical and comfortable. The Motability scheme diverts certain benefits into monthly payments towards a pre-approved model. Leasing a car via Motability also lets the custodian include servicing, insurance, breakdown cover and maintenance in one package.
The Motability price list includes a wide range of hybrid models, which are ideally suited to drivers looking to reduce the cost of fuel and their motoring budget in general, but who aren't ready to make the switch to fully electric. They're also perfect for anyone who can't get a home wallbox charging point because they don't have a suitable off-road parking space.
Hybrid vehicles offered on the scheme span from SUVs and estates to plug-in hybrid hatchbacks and small superminis. Larger models will offer plenty of space and versatility for carrying a wheelchair, while a plug-in hybrid can slash running costs for owners making regular short journeys. Common motorway drives may mean a non-plug-in hybrid is more suitable, as there won't be so many chances to top up the battery.
All prices mentioned below take the Higher Rate Mobility Component of Disability Living Allowance (HRMC DLA) into account – but these advance payments may vary if you receive one of the other allowances used on the scheme.
Read on for a rundown of our favourite Motability hybrid cars for 2022, but if the idea of an electric car does take your fancy, and you're eligible for the Motability scheme, take a look at our list of the top 20 electric cars currently offered on the scheme for a few ideas on which models to shortlist. You can also find more information about the scheme here.
It's worth noting that drivers aged under 25 availing of the Motability scheme are restricted to cars that sit in insurance group 16 or lower, and have a power output of 120bhp or less.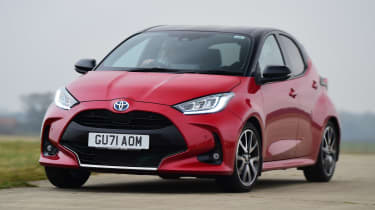 Toyota Yaris
Weekly rental: Full allowance
Advance payment: £0-£2,895 (depending on trim level and options)
The Toyota Yaris is a smooth-driving, frugal hatchback that's a doddle to drive around town. In some trims, it manages nearly 70mpg, thanks to the assistance of the electric motor and battery. Neither are very big, but Toyota says the Yaris can travel around town on electric power for 80% of the time. It is better suited to urban escapades, with the petrol doing the vast majority of the work on motorways.
The Yaris is better to drive than before, and plenty more stylish too. The 10-year warranty won't mean much for Motability lease choosers, although it should give you peace of mind that the Yaris will be a joy to live with.
Icon trim is the cheapest to buy and the only one available without paying an advance payment. Don't think it's poorly equipped, though. Far from it, with air con, auto lights and wipers, smartphone connectivity and a reversing camera all coming as standard. Read our full review here.
Partnership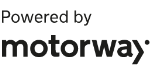 Need to sell your car?
Find your best offer from over 5,000+ dealers. It's that easy.
Would you rather your Yaris with a Mazda badge? The Mazda2 Hybrid (a rebadged Yaris) is also available on Motability, as long as you put an initial rental of £499 – £1,099 down. Both can be driven by under 25s.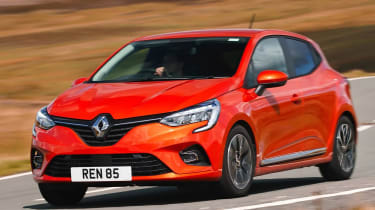 Renault Clio E-TECH
Weekly rental: Full allowance
Advance payment: £0 (Evolution), £495 (Techno)
The Clio E-TECH is one of the more recent additions to the hybrid hatchback club, but unlike its Captur sibling, it's not available as a plug-in hybrid. Instead, Clio uses a system coupling a 1.6-litre petrol engine, two electric motors and a 1.2kWh battery; power makes its way to the road through a Formula 1-inspired automatic gearbox.
With excellent real-world fuel economy up to 66mpg, stylish exterior and interior, unchanged practicality from the purely petrol version and decent driving experience, the Clio E-TECH hybrid is a very strong contender compared to other superminis and small hatchbacks also available on the scheme. However, it's not accessible to under-25s. Read our full review here.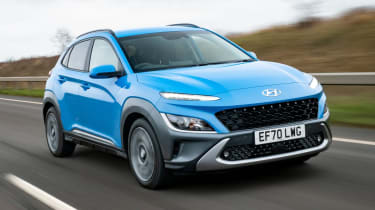 Hyundai Kona Hybrid
Weekly rental: Full allowance
Advance payment: £999 (SE Connect), £1,299 (Premium), £2,099 (Ultimate)
The Hyundai Kona pairs compact car dimensions – for easy parking and manoeuvring – with a raised ride height for easy ingress. In hybrid form, it'll manage around 55mpg and it's comfortable, too, although don't go expecting an engaging driving experience. The Kona isn't a speed demon, but does handle tidily. 
A logical interior boasts a useful digital instrument cluster and a clear infotainment system. The Kona has been ranked as one of the very best cars to own for the last couple of years by our readers, too. While it's the best choice if you can't regularly plug in to recharge, the Kona Hybrid doesn't offer as low running costs as the Kona Electric. The latter even comes in cheaper upfront, and the base SE Connect doesn't require an advance payment.
Unfortunately for younger drivers, it can't be driven by under-25s on Motability but, interestingly, the EV can. Read our full review here.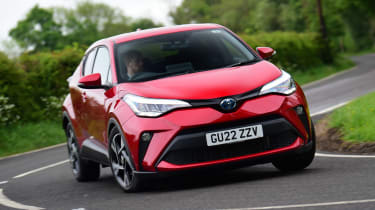 Toyota C-HR
Weekly rental: Full allowance
Advance payment: £1,895 (Icon), £3,895 (Design), £3,995 (GR Sport)
Toyota's tried-and-tested 1.8 and 2.0-litre petrol-electric drivetrains are used in the C-HR, a stylish SUV that'll suit those who value a high driving position and sharp driving experience. Despite its chunky looks, the C-HR doesn't offer a four-wheel-drive option, but you do get claimed fuel economy of 50-59mpg, a 0-62mph time of 11 seconds and remarkably sharp handling for a car of this type. The C-HR is well built, refined, rides well and is genuinely fun on a twisty road.
The C-HR's bold looks are what's most likely to make you choose it over the other cars here. They do result in sacrifices when it comes to practicality, but not unduly large ones. There's good space in the rear despite the sloping roofline, although anyone over six feet tall may struggle. Thankfully, if you're under 25, you can drive most versions of the C-HR on the Motability scheme. Read our full review here.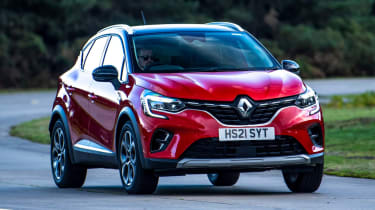 Renault Captur E-TECH
Weekly rental: Full allowance
Advance payment: £695 (E-TECH Evolution), £895 (E-TECH Techno), £1,295 (E-TECH PHEV Techno)
Unlike the Arkana, the Captur is available with both conventional hybrid and plug-in hybrid powertrains, with the latter boasting fuel economy of up to 188mpg, an electric range of 32 miles and CO2 emissions as low as 34-36g/km. The Captur is one of the smaller SUVs on the market, so can't compete with the Kia Niro or Toyota RAV4 for sheer space, but if you're after a high driving position, comfortable ride and low running costs, it ticks all those boxes.
If you don't want to deal with charging your car regularly – as you need to do with the plug-in – the small SUV is also offered on the scheme as a full-hybrid like the Arkana. Neither version of the Captur can be driven by under-25s on Motability, however. Read our full review here.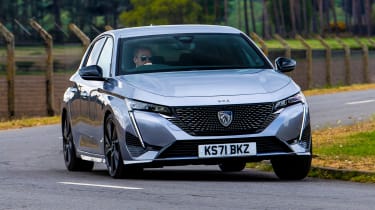 Peugeot 308 
Weekly rental: Full allowance
Advance payment: £3,749 (GT hatchback), £4,349 (GT Premium hatchback and GT estate), £4,949 (GT Premium estate)
The latest Peugeot 308 adds plug-in hybrid technology to the family hatchback, plus razor-sharp styling and a well-equipped cabin. The new 308 is available in hatchback or estate form, for those who need extra space in the boot. 
The plug-in hybrid powertrain not only provides enough power for punchy performance, it can also return over 200mpg and emits just 25-27g/km of CO2. Electric range is also good, with up to 37 miles of zero-emissions driving possible. Like nearly all the other cars on this list, it can't be driven by under-25s on Motability. Read our full review here.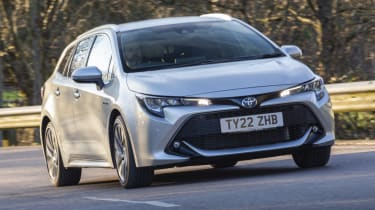 Toyota Corolla Touring Sports
Weekly rental: Full allowance
Advance payment: £1,595-£3,995 (various spec/trim combinations)
The Corolla Touring Sports is the estate version of the Corolla. It offers the same combination of a petrol-electric drivetrain, great build quality, practical specification and a focus on fuel economy and driving comfort, but adds a larger boot.
The standard Corolla hatchback has a 361-litre luggage capacity; the Touring Sports increases this to 598 litres. This makes it one of the best choices on this list if load space is paramount. The electrified estate is also available to under 25s – with the exception of the very top-spec versions.
It's also worth noting that the hatchback version is also available on Motability, and can also be driven by those under 25. Read our full review of the hatchback and estate models. Also check out the Suzuki Swace, a rebadged Corolla Touring Sports that's fractionally cheaper on Motability at the time of writing.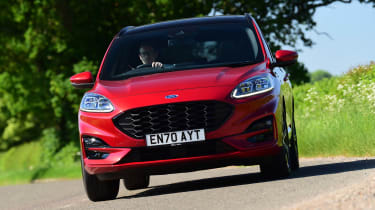 Ford Kuga PHEV
Weekly rental: Full allowance
Advance payment: £5,445 (ST-Line Edition), £6,345 (ST-Line X Edition and Vignale)
The latest generation of the Kuga is better than ever, with a focus on fun handling and practicality. It's available on the Motability scheme with either a full-hybrid or plug-in hybrid powertrain. The plug-in version is the one we'd go for, as it can return over 200mpg and cover nearly 40 miles on electric power alone.
Advance payments are extremely high, but the 412-litre boot and huge cabin offer a level of practicality many rivals can't match. Worth noting, however, is that the Kuga's power output means it's not accessible to under-25 on Motability. Read our full review here.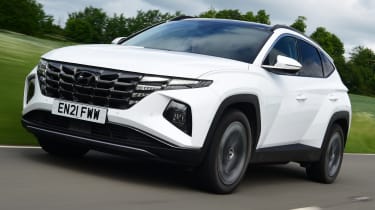 Hyundai Tucson PHEV
Weekly rental: Full allowance
Advance payment: £5,099 (Premium), £5,599 (Ultimate)
Offered alongside its petrol and mild-hybrid siblings on the Motability scheme, the plug-in hybrid version of the Hyundai Tucson is a strong choice and makes the most sense if you do most of your driving in built-up areas. A larger battery than the non-plug-in models brings a pure-electric range of around 30 miles, while there's loads of space for passengers front and rear, along with large doors and a sensible ride height that make getting in and out easy for those with mobility issues.
You have to sacrifice some boot space to the PHEV's larger battery, but the Tucson's boot is still vast at 558 litres (that's more than almost all the cars on this list). It's a small flaw in this excellent family-friendly SUV. Like many of the other cars here, it can't be driven by under-25s on Motability. Read our full review here.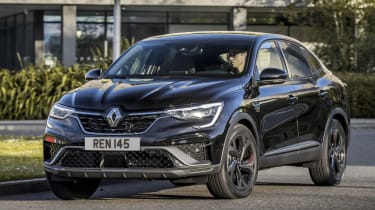 Renault Arkana E-TECH
Weekly rental: Full allowance
Advance payment: £2,195 (Evolution), £2,695 (Techno), £2,995 (E-TECH engineered)
If you're after a hybrid SUV with stylish looks, the Arkana E-TECH is an eye-catching offering. It's largely based on the Renault Captur E-TECH below, but is only available with its sister model's full-hybrid powertrain, featuring a 1.6-litre petrol engine that can return up to 56mpg. The Arkana is certainly handsome, but it also has an upmarket interior considering the affordable price, plus lots of standard equipment.
While it's not as sharp to drive as it looks, or particularly fast, the Arkana is worth considering if you want a family-size SUV that looks smart and doesn't require an enormous advance payment. Only over-25s can drive an Arkana on Motability. Read our full review here.
MINI Cooper Electric: pricing and specs for British-built electric supermini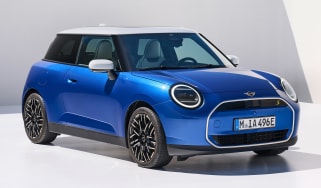 MINI Cooper Electric: pricing and specs for British-built electric supermini
MINI's latest electric hatchback introduces a revolutionary interior design, as well as larger batteries to provide a 250-mile range
Tesla Cybertruck: pricing and specs for Elon Musk's electric pickup truck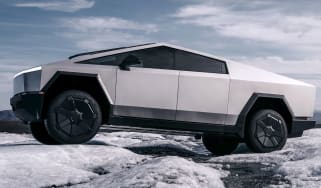 Tesla Cybertruck: pricing and specs for Elon Musk's electric pickup truck
The Tesla pickup truck is now on sale, with a range of up to 340 miles and a starting price of just over $60,000
Electric Renault 5: prices, 2024 launch date and teaser images of the MINI Cooper rival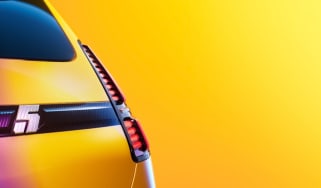 Electric Renault 5: prices, 2024 launch date and teaser images of the MINI Cooper rival
New official teaser pictures for Renault's electric supermini confirm the 5's reveal in February 2024