New 2022 Mazda2 Hybrid revealed as rebadged Toyota Yaris
Mild-hybrid Mazda2 will continue to be sold alongside Toyota-derived Mazda2 Hybrid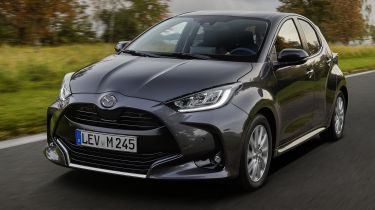 A full-hybrid Mazda2 supermini will join the brand's range in the UK during spring 2022, but instead of fitting a petrol-electric drivetrain to the current Mazda2 model, the company has elected to lean on its partnership with Toyota and offer a rebadged version of the larger company's Yaris hybrid.
Apart from the Mazda badges, the two cars are identical inside and out. Perhaps confusingly for buyers, the current Mazda2 (which is available with a mild-hybrid petrol engine) will continue to be sold alongside this new Toyota-based Mazda2 Hybrid in showrooms, despite the cars being completely different mechanically.
Technical specs for the Mazda2 Hybrid are identical to those of the Yaris, with the 1.5-litre, three-cylinder engine making 114bhp, getting the car from 0-62mph in 9.7 seconds and returning fuel economy of between 71 and 74mpg (and CO2 emissions of between 87 and 93g/km) depending on alloy-wheel size.
Three trim levels will be offered – Pure, Agile and Select. Exact specifications and pricing for the UK market will be issued in due course, but prices are not expected to differ much, if at all, from the Yaris' just-over-£20,000 starting figure. The Mazda2 Hybrid also shares the Yaris' five-star Euro NCAP crash-test rating.
Mazda is not the first Japanese brand to repackage hybrid Toyota models to bolster its range: Suzuki currently offers the Swace family estate and Across plug-in hybrid SUV, which are rebadged versions of the Toyota Corolla Touring Sports and Toyota RAV4 Plug-In respectively.
And in the pure-electric arena, Subaru will launch its own version of the Toyota bZ4X SUV in 2022, called the Solterra.
BMW i4 facelift to topple Tesla with huge range and tech upgrades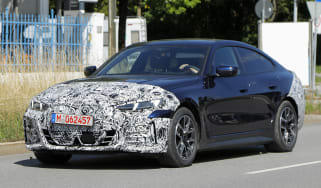 BMW i4 facelift to topple Tesla with huge range and tech upgrades
An updated version of the BMW i4 has been spotted testing, likely sporting a longer range and the latest technology
We've had a ride in the new electric MG Cyberster and it's NOT what we first thought…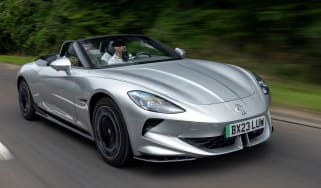 We've had a ride in the new electric MG Cyberster and it's NOT what we first thought…
The MG Cyberster is due to go on sale next year with up to 536bhp and scissor doors – and we've already had a ride in it