Top 10 best Motability electric cars 2023
The Motability scheme these days includes a number of electric cars, which can all help eligible drivers keep their motoring costs down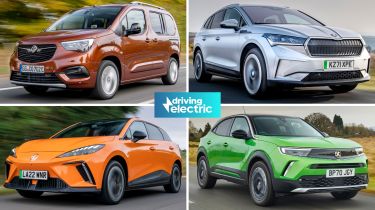 The Motability scheme gives eligible people in the UK the opportunity to lease a new car, scooter or powered wheelchair in exchange for their mobility allowance. Those who qualify can pick any car, scooter or wheelchair accessible vehicle (WAV) they want, provided it's offered on the Motability scheme.
But it's not just a lease: insurance, breakdown assistance, tyre repair and replacement, windscreen repairs, servicing and maintenance are all included in the package, making it a convenient and hassle-free option.
Plus, every three months, the organisation negotiates discounted leasing rates with car manufacturers, potentially offering big savings that aren't available elsewhere. And now, more and more electric cars are becoming available on the scheme, including city cars and family SUVs, to even larger and more practical options like the Citroen e-SpaceTourer nine-seat minibus.
After finding the car you want, you can also decide who drives the vehicle and which dealership to operate through, plus you're eligible for a new vehicle every three years. Drivers still have to pay for fuel, however choosing an electric car could offer huge savings over the course of the lease compared to a petrol or diesel-powered equivalent. Motability has also partnered with Ohme to offer home charging points to clients who choose an electric model.
Do I qualify for the Motability scheme?
To be eligible for the Motability Scheme, you must receive one of the following four mobility allowances:
Higher Rate Mobility Component of Disability Living Allowance (HRMC DLA)
£64.50 per week
Enhanced Rate Mobility Component of Personal Independence Payment (ERMC PIP)
£64.50 per week
Higher rate mobility component of Child Disability Payment
£64.50 per week
War Pensioners' Mobility Supplement (WPMS)
£72.00 per week
Armed Forces Independence Payment (AFIP)
£64.50 per week
You must have at least 12 months left to run on any of the above allowances to qualify for Motability. There are also terms and conditions that need to be met: any car leased through Motability must be used for the benefit of the disabled person, even if it's predominantly or entirely driven by another named driver.
Any named driver must have a valid driving licence, and also meet RSA's insurance underwriting criteria. Misuse of a Motability car – ranging from driving without insurance to sub-leasing the vehicle – could result in the termination of the lease and a bill to cover any repairs or loss of resale value. You may also be prevented from getting another car through the scheme.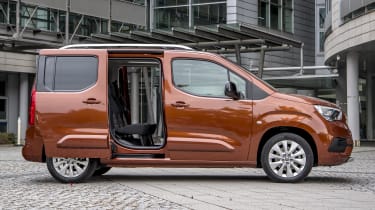 What's included on the Motability scheme?
As mentioned above, leasing through Motability lets you roll insurance, breakdown assistance, servicing and maintenance into one package, with all of the above organised for you. Insurance is provided by RSA Motability, and includes personal accident cover. Servicing is included, too, and if you give the dealership three weeks' notice, it'll arrange a courtesy car so you can travel home while the service is being carried out.
Motability arranges full breakdown assistance, and you may have up to two named drivers. Cars have a mileage allowance of 60,000 miles, while MOTs and road tax are covered as well. Perhaps most importantly of all, the scheme allows you to choose a variety of adaptations to accommodate a variety of disabilities. Some adaptations are free, while others have a price attached.
Partnership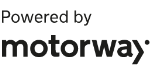 Need to sell your car?
Find your best offer from over 5,000+ dealers. It's that easy.
All manner of adaptations can be arranged, including hand controls, steering aids, pedal modifications and personal hoists. Consult with your dealer to have these fitted. It's important to note that there are cars on the scheme that cost less than a full week's mobility allowance to lease, and therefore it could still be cheaper overall to run a petrol, diesel or hybrid vehicle. We've also made a list of the best Motability hybrid cars if you can't make the switch to electric just yet.
It's worth noting that drivers aged under 25 are restricted to cars that sit in insurance group 16 or lower, and have a power output of 120bhp or less. Our list below features details of electric cars on the scheme along with their respective advance payments, calculated with the Higher Rate Mobility Component of Disability Living Allowance in mind. Advance payments can vary from our figures for those receiving one of the other allowances detailed above.
Citroen e-SpaceTourer
Weekly rental: Total allowance 
Advance payment: £7,995 (M Business Edition nine seat)
If practicality and versatility are what you're after, nothing comes close to Citroen's van-derived people carrier. Well, except the all-but-identical Vauxhall Vivaro Life Electric. The e-SpaceTourer is available on Motability in nine seat configuration only, while its 50kWh battery is coupled with a 134bhp electric motor for a claimed 143-mile range. It can also charge at up to 100kW if you find a suitably fast charging point.
The e-SpaceTourer and Vivaro Life Electric are the biggest electric cars you can get through the Motability scheme, and also among the most costly – even though this is the entry-level e-SpaceTourer with the M body-length in Business Edition trim, it needs a £6,495 advance payment. Still, if you need the space and flexibility, almost nothing can match it.
Read our full Citroen e-SpaceTourer review to learn more.
Fiat 500
Weekly rental: Full allowance
Advance payment: £995 (RED Edition), £1,395 (La Prima), £1,495 (RED Edition Cabrio), £1,895 (La Prima Cabrio)
The latest generation of Fiat's style-conscious city-car is electric-only, and one of the best electric cars on sale. It's fun to drive and all models on the Motability scheme come with a 42kWh battery for a range of 200 miles. Plus, a 10.25-inch touchscreen, Apple CarPlay and Android Auto Connectivity, keyless entry, traffic-sign information, cruise control and 85kW rapid charging capability. You can also get the drop-top 500 Cabrio on the scheme, and every model is available to under 25s, too.
Read our full Fiat 500 review to learn more.
MG4 EV
Weekly rental: Total allowance
Advance payment: £999 (SE), £1,299 (SE Long Range), £2,399 (Trophy Long Range)
The MG4 EV isn't just our reigning Car of the Year, it's also the brand's budget-friendly alternative to the Volkswagen ID.3, Kia Niro EV and Renault Megane E-TECH (also offered on Motability). Three versions of the electric hatchback are available, starting with the base SE which uses a 51kWh battery and 167bhp electric motor for an official range of 218 miles. Upgrading to the Long Range model adds a larger 64kWh battery that allows the MG4 to cover 270-281 miles on a charge depending on the exact specification. 
Standard kit is generous, with every model getting 17-inch alloy wheels, a 10.25-inch infotainment touchscreen with Apple CarPlay and Android Auto, a seven-inch digital driver's display, LED headlights and rear parking sensors. Not to mention, lane-keep assist, adaptive cruise control and driver attention alert. On the road, the MG4 is comfortable and refined, yet still fun to drive when you find a twisty back road.
Read our full MG4 EV review to learn more.
MINI Electric
Weekly rental: Total allowance
Advance payment: £499 (Level 1), £999 (Level 2), £1,499 (Level 3)
The second retro-inspired electric hatchback on this list, much like the Fiat 500, the MINI Electric is an extremely fun-to-drive and stylish option on the Motability scheme. Range is limited to 145 miles, but standard equipment is generous and performance is great from the 181bhp electric motor. For those looking for a car to do short distances or commutes in, the MINI Electric is ideal. However, it must be said that the MINI Electric isn't the most practical entry on this list, as it remains unavailable in five-door form, and it's not available to drivers under 25. 
Read our full MINI Electric review to learn more.
Nissan Leaf
Weekly rental: Full allowance
Advance payment: £0 (Acenta), £199 (Acenta + Tech Pack), £199 (N-Connecta), £499 (N-Connecta + ProPilot Pack), £1,699 (Tekna)
It may be one of the original mass-market electric cars, but the Nissan Leaf remains one of the best EVs you can buy. The latest iteration is spacious, comfortable and very well engineered. The Leaf only comes in 40kWh form on the Motability scheme, but is very reasonably priced in its lower trims.
The 168-mile range offered by this smaller battery may not be that impressive, but it's more than flexible enough for most drivers' average daily mileage – especially given that we consistently managed to get more than 160 miles in real-world tests. Topping up on the go is easy enough if you have 100kW charging access – 10-80%  charge is dealt with in 35 minutes.
If you like an easy-to-drive car, the Leaf's effortless e-pedal system will also appeal; it allows for near-single pedal operation of the car, with regenerative braking boosted to the point that it can almost slow the car down to a complete stop when you lift off. 
Read our full Nissan Leaf review to learn more.
Peugeot e-208
Weekly rental: Total allowance
Advance payment: £499 (Allure Premium+), £999 (GT)
If you only need a small car, but would like it to have a decent breadth of ability, the Peugeot e-208 is a great contender. The e-208 is small inside but still roomier than a Renault ZOE; four adults can fit in comfortably. The boot is of a useful size, too, but there's nowhere to store the charging cables out of the way other than a bag. The car's focus on style – and its accompanying sloping roof – mean access to the rear seats may be an issue for some.
An official range of 225 miles is strong for an electric car of this size, offering a little more flexibility than some urban-focused rivals, and the e-208 will charge fully from a wallbox in around eight hours. It's worth noting that despite the youthful looks, those under 25 can't drive one on Motability. 
Read our full Peugeot e-208 review to learn more.
Peugeot e-2008
Weekly rental: Total allowance
Advance payment: £0 (Active Premium+), £599 (Allure Premium+), £1,299 (GT)
Based on similar underpinnings to its e-208 stablemate, the e-2008 is a larger, more practical and higher-riding SUV alternative. The pair share similar interior design and use the same 50kWh battery, but because the SUV is heavier, range drops slightly to a still-useful 214 miles compared to the e-208's 225.
One of the best reasons to choose the e-2008 over its sibling is practicality: there's a 405-litre boot, 60:40 split-folding seats and plenty of room for adults in the back. Access is easier, too, thanks to the raised ride height and high roofline. Sadly, those under 25 miss out on the e-2008 due to its insurance rating. 
Read our full Peugeot e-2008 review to learn more.
Skoda Enyaq iV
Weekly rental: Total allowance
Advance payment: £5,499 (Enyaq iV 60 Loft), £5,649 (Enyaq iV 60 Suite), £5,649 (Enyaq iV 60 Lounge), £5,899 (Enyaq iV 60 EcoSuite)
Skoda's first dedicated electric car is one of our favourite EVs around and has won our Best Electric Family Car award two years in a row now. It's stylish, offers a vast amount of cabin and boot space, excellent refinement and plenty of handy 'Simply Clever' features that Skoda has become known for, plus loads of other kit. The only version of the Enyaq available on Motability is the base model with a 58kWh battery, though it still offers a range of just over 240 miles and you can charge it at up to 120kW so a 10-80% top-up only takes around half an hour. You do get a choice of four interior themes though, which changes the types and colours of the materials used.
Read our full Skoda Enyaq iV review to learn more.
Vauxhall Combo Life Electric
Weekly rental: Total allowance 
Advance payment: £6,099 (various spec/seating combinations)
The sister model to the Citroen e-Berlingo and Peugeot e-Rifter, Vauxhall's zero-emissions MPV is available in five and seven-seat configurations, with a range of up to 174 miles. Like the e-Berlingo and the other Stellantis Group models on this list, it's powered by a 50kWh battery and 134bhp electric motor.
The standard version is 4.4 metres long; the XL extends to 4.75 metres. In five-seat mode, there's plenty of head and legroom for all, with the third row in the XL offering a surprising amount of space, even for taller adults. It comes in Design and Ultimate trim, with standard kit including parking sensors, a reversing camera, cruise control, speed-limit recognition, a 10-inch instrument panel and and eight-inch touchscreen. 
Read our full Vauxhall Combo Life Electric review to learn more.
Vauxhall Mokka Electric
Weekly rental: Total allowance
Advance payment: £1,399 (GS Line), £1,699 (Ultimate)
The Mokka Electric also shares its underpinnings with the Peugeot and Citroen products elsewhere on this list: that means a 50kWh battery, 209-mile claimed range, 134bhp electric motor and 100kW rapid charging. Those familiar parts don't stop the Mokka Electric from having its own character, though; it's a good-looking, comfortable car – if not quite as good to drive as its Peugeot counterpart. But, standard equipment is good and from March 2023 the Mokka Electric will be fitted with a larger 54kWh battery and offer a range of 252 miles.
Volvo EX30 electric SUV undercuts Vauxhall Mokka Electric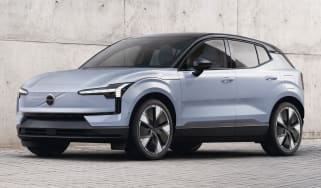 Volvo EX30 electric SUV undercuts Vauxhall Mokka Electric
Volvo has revealed its smallest electric car which boasts a range of up to 298 miles
New electric cars coming in 2023 and beyond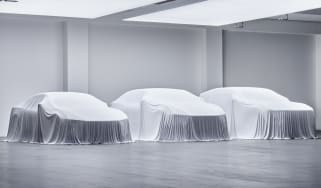 New electric cars coming in 2023 and beyond
With electric cars making up an ever-increasing proportion of sales, the industry is working flat out to launch new models – here's what's on the way …
Peugeot e-2008 facelift is now on sale with more electric range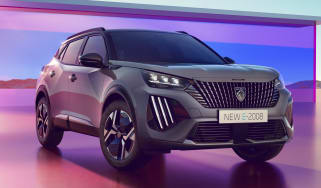 Peugeot e-2008 facelift is now on sale with more electric range
The updated e-2008 SUV gets a refreshed look and a 252-mile range