Cheap hybrid cars: the best used hybrid cars to buy on a budget
A guide to buying a cheap used hybrid car on a budget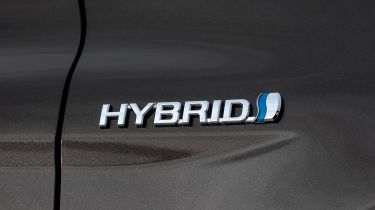 Electric cars are becoming more and more common these days, but the choice on the secondhand market remains relatively limited and prices are on the high side for all but the earliest models. So if you're buying used but still want to be as efficient as possible, a secondhand hybrid car can be a good choice.
Offering from Japanese brands such as Toyota, Mitsubishi and Honda tend to dominate this end of the market: all have offered hybrid technology for many years now, so there's a good selection to choose from depending on your budget and requirements.
You can buy both regular hybrid and plug-in hybrid cars secondhand – make sure to understand the difference, as the suit different driving routines and the latter work best if you have the ability to charge them at home. Covering both plug-in and non-plug-in models, this is our list of the UK's best cheap hybrid cars: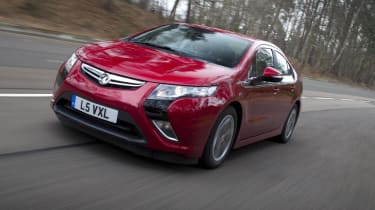 Chevrolet Volt/Vauxhall Ampera (2012-2015)
The Chevrolet Volt and Vauxhall Ampera are basically the same model, both built by General Motors. Their lithium-ion batteries can be charged by either plugging in or on the move using the 1.4-litre petrol engine. On electric power alone, the cars will cover about 40 miles, but this varies depending on weather conditions and your driving style. Volts tend to be rarer than Amperas, and even the latter are becoming tricky to find these days. As of early 2022, a good one will set you back in the region of £10,000.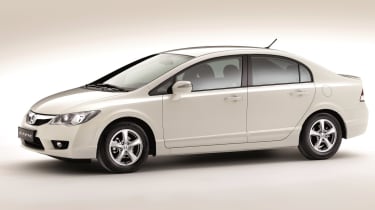 Honda Civic Hybrid Mk2 (2006-2011)
Used Honda Civic Hybrid Mk2s start at around £3,000; that'll get you an early 2007 model with above-average miles. A read of owner reviews shows the car is well liked, with few reported problems. Unlike the European Civics of this era, the Hybrid was based on the Japanese-built saloon. Its engine is a 1.3-litre petrol paired with a 20bhp electric motor – the same as used in the previous Civic IMA. It's smooth and quick, and the engine cuts out when stationary to keep city emissions down.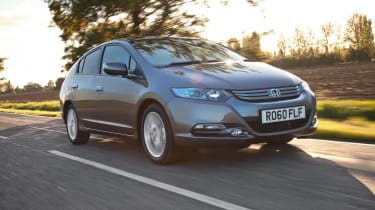 Honda Insight Mk2 (2010-2014)
Honda's first Insight was launched in 1999 and its sci-fi looks and space-age powertrain made even the Toyota Prius look normal. Honda followed that up with a more conventional and practical Mk2 version in 2009. Based on a saloon, and with an upgraded IMA hybrid powertrain, the Insight had the same setup as the Civic above: a 97bhp 1.3-litre petrol engine with a 13bhp electric motor. Unlike a Prius, the Insight doesn't allow for electric-only driving. Instead, the electric motor is used to assist the petrol engine. Used Insight Mk2s can now be bought from £3,500 and you can read our full used buying guide here.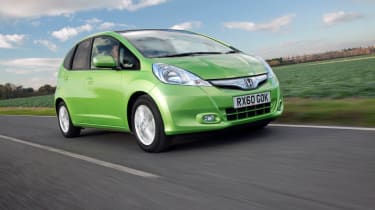 Honda Jazz Hybrid (2011-2015)
Until 2015, Honda offered a hybrid version of its Jazz supermini, which you can now buy used from around £6,000. When it went on sale, it was the cheapest petrol-electric car in the UK. The Jazz Hybrid used the same powertrain as the Insight and Civic above: a 1.3-litre engine with a 13bhp electric motor. Our main gripe is the CVT gearbox. It's fine at lower speeds, but ask it to work harder and it's sluggish and noisy. With a higher budget, you may be able to stretch to the current hybrid-only Jazz – read more about that car here.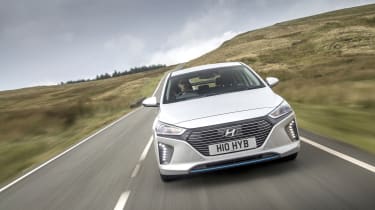 Hyundai Ioniq Hybrid (2016-present)
The Ioniq was Hyundai's first purpose-designed electrified car and comes in three guises: hybrid, plug-in hybrid or fully electric, all offering practicality, efficiency and sleek design. The hybrid was the first to arrive and uses a 1.6-litre petrol engine with an electric motor to give 139bhp. Used, they start from under £13,000. The plug-in hybrid version uses the same engine and motor but gets an 8.9kWh battery to give it a range of 39 miles in pure-electric mode. You can read about the current, updated version of the Ioniq Hybrid here.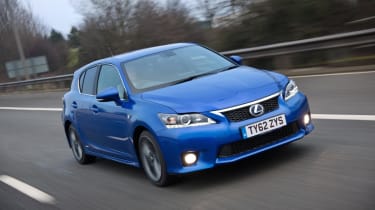 Lexus CT 200h (2011-2020)
The Lexus CT 200h was only available with one engine, a petrol-electric hybrid. The powertrain is essentially the same as in the Toyota Prius: a 1.8-litre petrol engine and an electric motor, fed by a battery pack in the floor and managed by a CVT gearbox. At low speeds, the CT 200h can even drive on purely electric power for short distances. It's a compromised car, though: while it's spacious, stylish and quiet around town, it becomes raucous and uncomfortable at higher speeds. Read our full Lexus CT 200h used buying guide.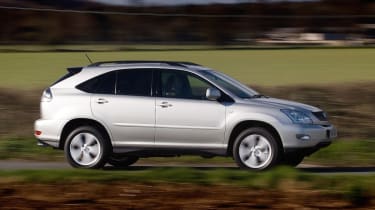 Lexus RX 400h (2005-2008)
The RX 400h was Lexus' second RX model and the first to be available as a hybrid. At the time of its launch, it was undoubtedly one of the world's most sophisticated cars – an SUV that was fast, 'green' and luxurious. Power came from a petrol-electric powertrain that allowed for electric-only town driving. With 208bhp, 0-62mph took 7.6 seconds and it returned an average fuel economy of 35mpg. Used, you can buy one from £4,500, or if your budget can stretch further, check out our buying guide for the third-generation model.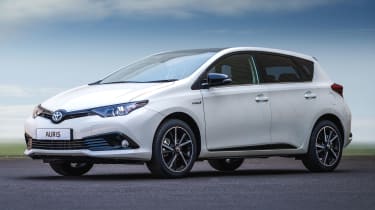 Toyota Auris Hybrid (2013-2019)
This Auris had been around in petrol and diesel form since 2010, but was designed to be a hybrid from the outset, so there's no loss of space in the boot. It uses the same powertrain as the Prius: a 98bhp 1.8-litre petrol engine coupled with an electric motor. Toyota claims average fuel economy of 74.3mpg. The battery, if it has enough charge, allows for silent stop-start driving and occasional electric-only running. If you adopt a relaxed driving style, the CVT gearbox even manages to be smooth and quiet. The Auris starts at around £9,000 used; you can read our full review here. It was replaced in 2019 by a new Corolla Hybrid.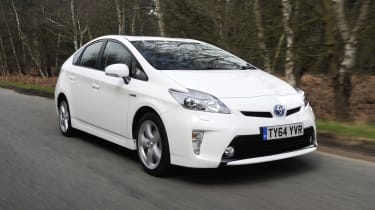 Toyota Prius Mk3 (2009-2015)
The Toyota Prius barely needs an introduction, as probably the best-known hybrid in the world. From Uber drivers to Hollywood celebrities, the Prius is a popular choice, and for good reasons: it's spacious, pretty economical and very reliable. This third-generation model, built from 2009 to 2015, is a used-car bargain, starting at around £6,500. It has a bigger engine than its predecessors (a 1.8-litre petrol), which conversely meant it was not only smoother and quieter, but had better fuel economy and emissions, too.  Its battery pack can even manage a few miles of electric-only driving. In 2012, Toyota launched a plug-in hybrid version of this Prius with a pure-electric range of 14 miles. Make sure to read our full Mk3 Prius used buying guide.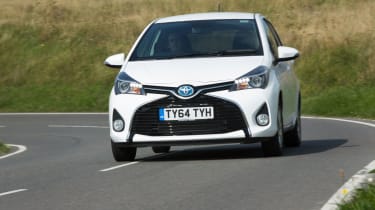 Toyota Yaris Hybrid (2012-2019)
The current Yaris is a great hybrid-only supermini and its predecessor was available with petrol-electric power, too. Around town, perfect. Its 100bhp, 1.5-litre engine and electric motor combination is responsive and allows for short periods of electric-only driving. But like many hybrids, problems soon start to show. At higher speeds, the CVT gearbox is noisy and slow, while handling out of town isn't fun. The Yaris Hybrid starts at around £8,000 in the classifieds. Read our full review of the model and more on its replacement.
BMW i4 facelift to topple Tesla with huge range and tech upgrades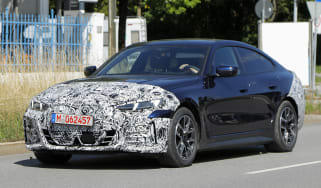 BMW i4 facelift to topple Tesla with huge range and tech upgrades
An updated version of the BMW i4 has been spotted testing, likely sporting a longer range and the latest technology
Electric BMW iX2 is set to take the kidney grille to the next level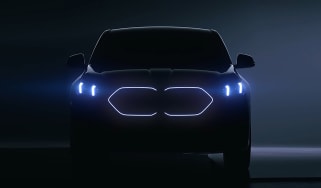 Electric BMW iX2 is set to take the kidney grille to the next level
BMW has teased the highly-rumoured iX2 coupe-SUV, which has been revealed to get enlarged illuminated kidney grilles