New Audi Q6 e-tron prepares for launch as BMW iX3 rival
Audi's next electric SUV will be available two bodyshapes, and share its parts with the upcoming electric Porsche Macan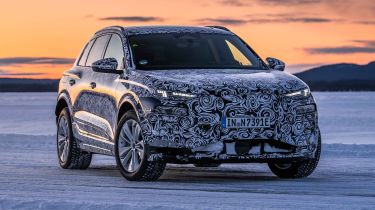 The full reveal of the new Audi Q6 e-tron is rapidly approaching and the Ingolstadt-based brand has released a bunch of official teaser images, giving us our best glimpse yet of the new electric SUV.
Set to debut later in 2023, the Audi Q6 e-tron will be available in both regular SUV and Sportback coupe SUV form. It's designed to slot between the Q4 e-tron and the newly-renamed Q8 e-tron in the lineup and will likely start from just over £60,000 when it eventually goes on sale. This would put the Q6 e-tron in-line with rivals such as the Tesla Model Y, BMW iX3, Lexus RZ 450e and Mercedes EQC.
We can now discern quite a few styling elements from these latest images, including a new split LED headlight design, large air intakes on either side and at the bottom of the front bumper, and a full-width light bar at the rear, similar to the one on the Audi e-tron GT saloon. Overall, the Q6 e-tron's shape closely resembles that of the existing Q4 e-tron, and last year even we saw that the two will feature very similar textured front grille designs.
As always, the only visual difference for the Sportback version is the significantly more aerodynamic and rakish roofline, which should provide a small boost in range over the standard SUV, but at the cost of some boot space.
The Q6 e-tron will use the same 'PPE' (Premium Platform Electric) underpinnings as the new electric Porsche Macan, now due in 2024. We expect the technical details for the Q6 e-tron and Macan EV to be very similar, including the use of a roughly 100kWh battery. Audi has confirmed the Q6 e-tron will also utilise an 800-volt electrical system – like the brand's flagship e-tron GT – which could, in theory, allow for a 5-80% top-up in just 25 minutes if owners use a 350kW ultra-rapid charger. 
We learned last year that the new Porsche Macan will feature two electric motors – one on each axle – for a total power output of more than 600bhp and over 1,000Nm of torque. Range-topping Audi SQ6 e-tron or Audi RS Q6 e-tron could boast similar numbers, though less powerful models will almost certainly be offered, too. In terms of range, we expect the Q6 e-tron will easily cover more than 300 miles on a single charge.
Audi is planning to have 20 fully electric models on the market by 2025, and it intends for them to make up a third of its total sales by that point. The next additions to Audi's e-tron range of electric cars will be the A6 e-tron saloon and A6 Avant e-tron estate that are set to go on sale in 2023 and 2024 respectively, and use the PPE platform from the Q6 e-tron.
Fiat announces new electric-car grant for 500e
Fiat announces new electric-car grant for 500e
Vauxhall Astra Electric: price, range and video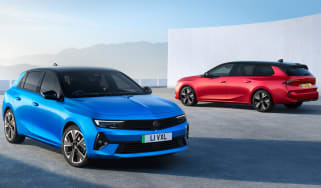 Vauxhall Astra Electric: price, range and video
Top 10 best plug-in hybrid cars 2023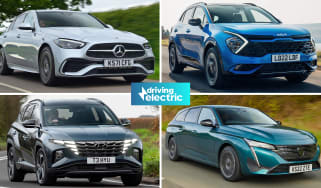 Top 10 best plug-in hybrid cars 2023