Audi Q6 Sportback e-tron spotted under wraps
Coupe version of larger Audi electric SUV captured by spy photographers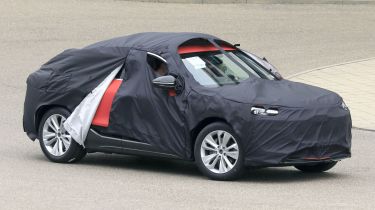 The 'Sportback' coupe version of the forthcoming Audi Q6 e-tron SUV has been spotted while testing at a facility in Spain under heavy disguise.
While there's no camouflage pattern on the car itself, it's wearing a set of heavy drapes that hide pretty much all visual details, apart from the distinctive roofline that marks it out as a Sportback.
The regular Q6 e-tron, which has yet to be officially unveiled, has also been spied wearing camouflage, but with its nose unmasked to reveal the car's front-end design. Both Q6 models will sit on the Premium Platform Electric (PPE) architecture, which has been co-developed by Audi and Porsche and will also form the basis of the latter's electric Macan SUV.
Exact technicals details of the Q6 remain unconfirmed for now, but as the PPE platform incorporates the same 800-volt electrical capability as the one underpinning the Audi e-tron GT, up to 350kW rapid charging capability, a range of around 300 miles a power output in the region of 500bhp can be expected.
An even more powerful 'RS' high-performance model, in similar mould of the RS version of the e-tron GT, is also a strong possibility.
The Q6 e-tron and Q6 e-tron Sportback will slot into the Audi electric SUV range between the existing Q4 e-tron and Q4 Sportback e-tron and larger e-tron and e-tron Sportback – with the latter pair due to receive an extensive visual and technical update by the end of 2022.
New Audi Q6 e-tron prepares for launch as BMW iX3 rival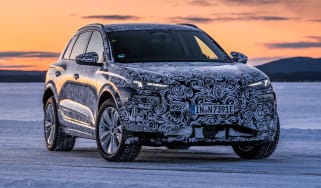 New Audi Q6 e-tron prepares for launch as BMW iX3 rival
New Ford Explorer electric SUV revealed in full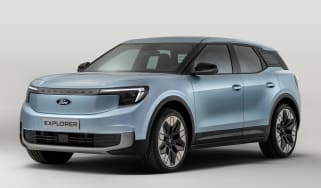 New Ford Explorer electric SUV revealed in full
Ford's new electric crossover boasts a range of more than 300 miles and will be built on the same platform as the Volkswagen ID.4 SUV
Electric car battery life: how to preserve your battery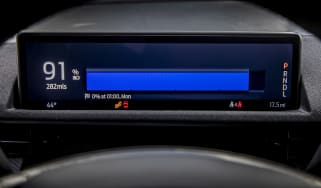 Electric car battery life: how to preserve your battery
Here's how to preserve your electric car's battery life and how much a replacement will cost if you need one
Top 10 best 4WD electric cars 2023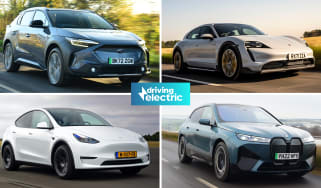 Top 10 best 4WD electric cars 2023
Whether you're looking to venture off-road, or just want some extra assurance in the winter months, we list the best four-wheel-drive electric cars on…