Top 10 fastest hybrid cars 2022
There was a time when hybrids were thought of as slow and dull, but not anymore: these are the fastest hybrid cars ever made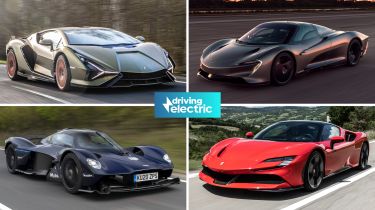 If you thought hybrids were all fuel-sipping economy cars, think again. Many of the latest and greatest supercars and hypercars utilise hybrid technology to boost performance, with the added bonus of reducing tailpipe emissions, too. Using technology developed and honed for Formula 1 and other motorsports, many of the world's fastest cars are now hybrids – and some are even fully electric.
Below is a list of some of the fastest hybrid cars we've ever seen or tested…
McLaren Speedtail
Koenigsegg Regera
Koenigsegg Gemera
Aston Martin Valkyrie
Lamborghini Sían
Now keep reading for a more detailed look at each model...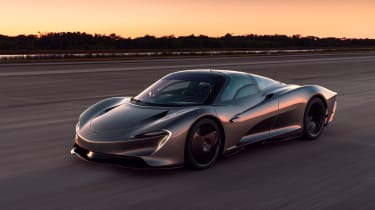 1. McLaren Speedtail: 250mph
The Speedtail arrived at the end of 2019, pushing the benchmark for hybrids to new realms. The successor to the McLaren F1 boasts a 4.0-litre twin-turbocharged engine producing 1,036bhp, with 0-186mph taken care of in a mind-blowing 12.8 seconds; a full four seconds faster than the P1. Only 106 Speedtails will ever be produced, priced at over £2 million apiece, and all have been sold. Those lucky buyers are receiving one of the few road cars in history capable of breaking the 250mph barrier, and McLaren has assured them that their exclusivity will be preserved by promising that no convertible or GTR variants will follow.
2. Koenigsegg Regera: 250mph
Perhaps the fastest car on this list, the Koenigsegg Regera is a plug-in hybrid supercar like no other. Powered by a dry-sump twin-turbo 5.0-litre V8 engine and three electric motors, the Regera produces a massive 1,479bhp and over 2,000Nm of torque. All that power is fed to the rear wheels via a direct-drive system rather than a traditional gearbox, so there's no break in the car's relentless acceleration. The car set a 0-400-0kph record in 2019 (that's 0-248.5-0mph) of just 31.49 seconds, hitting 250mph in the process.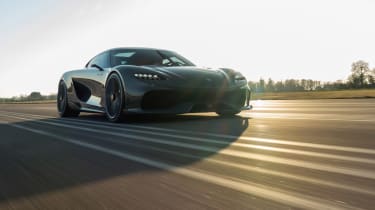 3. Koenigsegg Gemera: 248mph
If you like the thought of an ultra-fast hypercar with a Koenigsegg badge, but need four seats, the Gemera is the car for you. This grand tourer features a 2.0-litre three-cylinder petrol engine. No, that isn't a mistake, Koenigsegg has named this unit the 'Tiny Friendly Giant' – it'll rev up to 8,500rpm and features infinitely variable valves. This engine is combined with two electric motors on the rear axle and another smaller motor within the engine's crankcase. This combination results in an astonishing 1,700bhp, launching the Gemera from 0-60mph in just 1.9 seconds and on to an incredible 248mph top speed.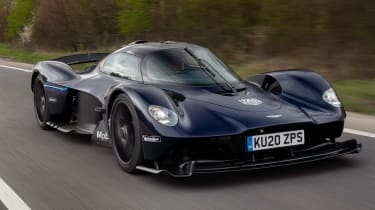 4. Aston Martin Valkyrie: 225mph
As the name suggests, Aston Martin's first-ever hypercar intends to make a statement. The Valkyrie houses a 6.5-litre V12 engine combined with a 160bhp electric motor – a combination that produces 1,140bhp and 900Nm of torque. As a result, the standard car will go all the way to 225mph. As one of the most advanced road cars of its generation, this certainly isn't a bad first attempt at a hypercar from Aston Martin.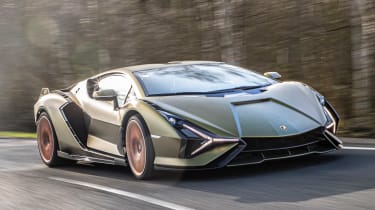 5. Lamborghini Sían: 220mph
It was only a matter of time before a hybrid car wore the legendary 'raging bull' badge. In typical Lamborghini fashion, though, the Sían is indeed a hybrid, but it's also a V12 monster. Underneath the striking body, the Sían is pretty similar to the Aventador SVJ, so if you're looking for a hybrid for environmental or money-saving reasons, this really isn't the car for you. If you're after sheer power and that textbook Lamborghini madness, however, then keep reading, as the Sían's 6.5-litre V12 is combined with a small electric motor, which itself is powered by a supercapacitor. These produce a total output of 808bhp, and while the Sían may not be the fastest or most powerful car on this list, it certainly is one of the most special.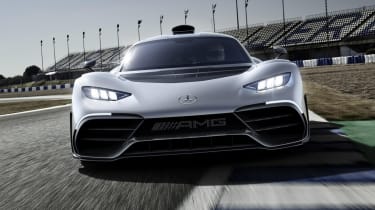 6. Mercedes AMG One: 217mph+
The Mercedes AMG One brings a 986bhp, 1.6-litre V6 hybrid engine derived from Mercedes' Formula One programme. And no, that's not a typo: one of the most advanced F1 engines ever really will be available in a road car. While it won't quite be quick enough to win a Grand Prix, it won't be far off, with a 0-124mph time in the region of under six seconds and a top speed in excess of 217mph.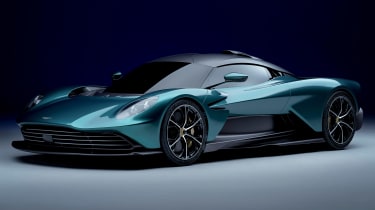 7. Aston Martin Valhalla: 217mph
When you're naming a car after something as dramatic as the Viking 'hall of the fallen', that car needs to be something to remember. Aston is well aware of this, and the Valhalla is by far one of the most phenomenal hybrids to date. Essentially a smaller sibling to the Valkyrie mentioned above, it's powered by a twin-turbocharged 4.0-litre V8 and electric motors mounted on both axles. This combination results in a maximum power output of 940bhp, resulting in a claimed 217mph top speed and a 2.5-second 0-62mph time.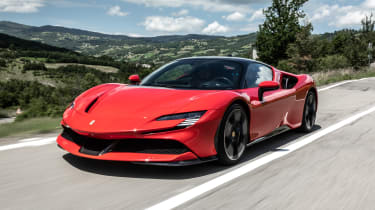 8. Ferrari SF90 Stradale: 211mph
The SF90 isn't just one of the fastest plug-in hybrids ever made, it's also the most powerful V8-engined Ferrari road car ever. On its own, the car's 3.9-litre V8 engine produces 769bhp, but with the help from three electric motors, total output is a colossal 986bhp – enough for 0-62mph in 2.5 seconds and a top speed of 211mph. It's no wonder that Ferrari says this car is faster around its Fiorano test track than the LaFerrari.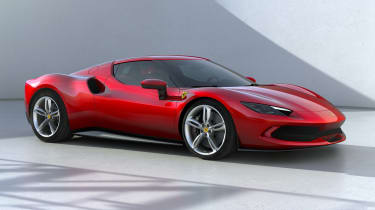 9. Ferrari 296 GTB: 205mph
Ferrari's 'entry-level' supercar is another step towards the iconic brand's electrification. The 296 GTB does away with the usual V8 engine and instead uses a twin-turbocharged V6 hybrid – making this the first six-cylinder road car from Ferrari since the Dino 246 GT of 1974. There's no need to worry about power output, however, as the 296 GTB's combination of combustion engine and electric motors produces a mighty 819bhp –  good for a 0-62mph time of 2.9 seconds and a top speed of more than 205mph, which are definitely the figures to be expected of a 'proper' Ferrari. There's also a drop-top version called the Ferrari 296 GTS, which boasts the same 205mph top speed.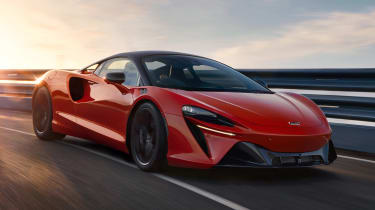 10. McLaren Artura: 205mph
If you just missed out on the Speedtail's limited production run, have no fear, as there's another McLaren on this list. The Artura is the first plug-in hybrid from the brand and even claims a 19-mile range on battery power alone. When you're not driving in pure-electric mode, the 3.0-litre twin-turbo V6 engine will kick in, with 671bhp and 720Nm of torque on offer. Also, rather unusually, the Artura has no mechanical reverse gear; instead, the electric motor provides reverse drive.
Electric Ford Puma could become the UK's best-selling EV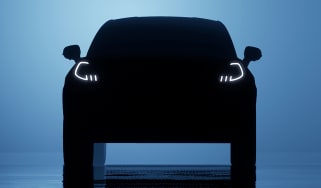 Electric Ford Puma could become the UK's best-selling EV
The Ford Puma EV is set to arrive in 2024 with a range of over 200 miles and a tweaked exterior design
Vauxhall Corsa Electric facelift brings sharp new look and tech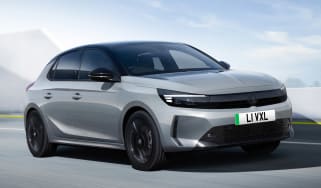 Vauxhall Corsa Electric facelift brings sharp new look and tech
Vauxhall's top-selling electric supermini has been updated for 2023, now getting the 'Vizor' from the Mokka Electric
BMW i5 breaks cover as 5 Series EV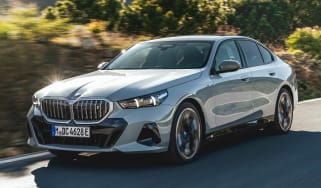 BMW i5 breaks cover as 5 Series EV
BMW has unveiled an all-electric version of its long-running 5 Series, with a range of up to 362 miles