New Alpine GT X-Over to be first of three electric Alpine SUVs
French performance brand's first electric SUV will arrive in 2025 to take on the Ford Mustang Mach-E and BMW iX1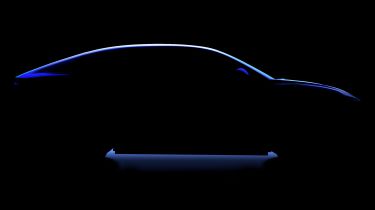 Alpine, the performance-car offshoot of Renault, has announced plans to launch a total of five EVs by 2028, including three electric SUVs. The first is its answer to the Ford Mustang Mach-E, BMW iX1 and Kia EV6 called the Alpine GT X-Over, which is set to enter production in 2025.
The GT X-Over will use the same 'CMF-EV' mechanical underpinnings as the Nissan Ariya SUV and Renault Megane E-TECH hatchback. But the Alpine is expected to use a new triple-motor setup, pairing the front motor of the Ariya with two more on the rear axle for higher performance and four-wheel drive. A power output in the 400-500bhp range has been suggested, while range is likely to be between 250 and 350 miles.
"We'll keep the 215bhp motor in the front", Alpine engineering vice-president Gilles le Borgne said in 2021, "but in the rear we'll have a big surprise. We want to do torque-vectoring, have really amazing handling and performance – as you can imagine, for an Alpine. We are working on that."
According to Alpine, the new GT X-Over "will combine the brand's competitive know-how and the group's experience in electric vehicles, with all the excellence in sports vehicles that defines the Alpine brand." But of course the proof will be in the pudding. Production of the GT X-Over will take place at the brand's factory in Dieppe, France.
Beyond a very shadowy outline teaser released by Alpine, there are no clues yet as to what the GT X-Over will look like. A test mule wearing modified Dacia Duster bodywork (pictured above) has been spotted driving on Swedish proving grounds, but the GT X-Over's styling will be radically different to this prototype.
Very few details are known about Alpine's other two electric SUVs at this time, apart from a rough indication of their size and when they'll launch, which were revealed in a 2022 Renault Group presentation.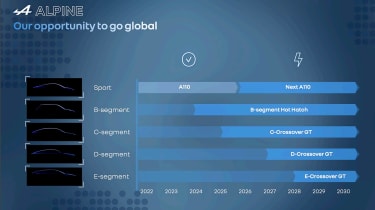 Two more electric SUVs by 2028
In 2027, Alpine will launch its second electric SUV that was simply referred to as the D-segment crossover GT in the presentation, but suggests to us this particular model will serve as a rival to the Tesla Model Y and forthcoming Porsche Macan EV. It'll be quickly followed up by a larger E-segment crossover GT in 2028 that itself could potentially rival the BMW iX and Polestar 3, among others.
No technical details have emerged about either model at the time of writing, including which platform(s) they will use. But based on the shadowy outlines on the presentation slide (below) both electric SUVs will sport rakish coupe-like rooflines.
Alpine's EV line-up won't consist entirely of SUVs, however. Its first electric car will be a performance version of the reborn Renault 5 arriving in 2024. The standard car will produce 134bhp, while Alpine's R5 will make 215bhp for a 0-62mph acceleration time of around six seconds. A 52kWh battery and circa-200-mile range are also likely for the Abarth 500 competitor.
Alpine is also working on a zero-emissions successor to the Alpine A110 sports car due to land in 2026. It's being co-developed with Lotus and will use the same platform as the British brand's own electric sports car, currently codenamed Type 135, that's set to launch the same year. Both cars will use a new 'E-Sports' platform and 'Lightweight Electric Vehicle Architecture' (LEVA) already unveiled by Lotus.
New Alpine A290 hot hatch is inspired by video games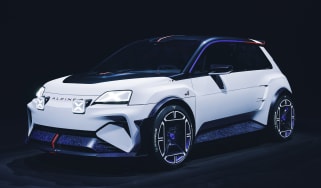 New Alpine A290 hot hatch is inspired by video games
DrivingElectric Awards 2024: the winners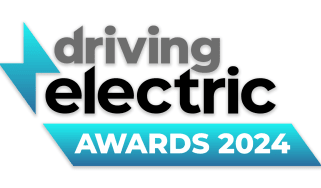 DrivingElectric Awards 2024: the winners
We celebrate the very best products in the EV world
Tesla Cybertruck: pricing and specs for Elon Musk's electric pickup truck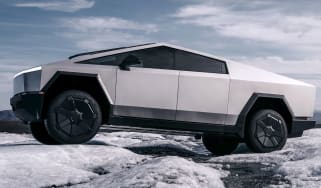 Tesla Cybertruck: pricing and specs for Elon Musk's electric pickup truck
The Tesla pickup truck is now on sale, with a range of up to 340 miles and a starting price of just over $60,000
MINI Cooper Electric: pricing and specs for British-built electric supermini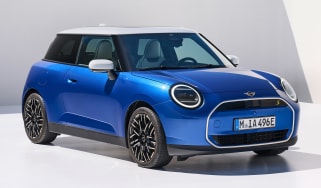 MINI Cooper Electric: pricing and specs for British-built electric supermini
MINI's latest electric hatchback introduces a revolutionary interior design, as well as larger batteries to provide a 250-mile range