Complete guide to the IONITY charging network
The manufacturer-backed IONITY rapid-charging network is expanding across the UK and Europe – here's all you need to know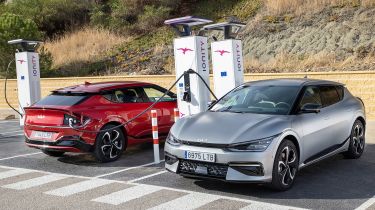 IONITY operates across Europe, with 16 locations in the UK alone. While that figure might be small, IONITY is one of only two charging networks that currently operates 350kW ultra-rapid chargers. At those speeds, electric cars like the Hyundai Ioniq 5 and Kia EV6 can recharge their batteries from 10-80% in less than 18 minutes. 
In November 2021, it was announced the network is set to include nearly 7,000 charging-points spread over 1,000 locations by 2025 thanks to a €700 million investment. IONITY splans to feature 6-12 charging points at each new site it opens, while more charging points will be added to its busier existing locations. 
As part of the network expansion, IONITY is also planning to build its own service stations – like Gridserve's 'Electric Forecourts' – and has unveiled its concept for these locations, called OASIS (picture below). However, there's been word on where these IONITY service stations will be located, or when the first will open.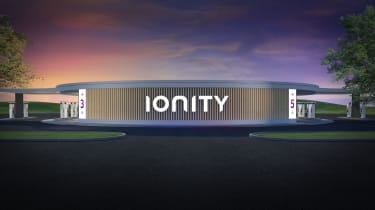 First formed following Shell's acquisition of NewMotion – one of the largest charging providers in Europe – IONITY is now a joint venture involving Daimler (parent company of Mercedes), BMW, Ford, Hyundai, Kia and the Volkswagen Group brands Porsche and Audi.
The latest design of IONITY's charging points has been dubbed the 'High-Power Charger', with the unit promising an improved user experience, incorporating an LED light ring to act as a 'beacon' at night, making it easier for drivers to find stations. The ring indicates the chargers' availability by its colour, as well as providing a well-lit area for drivers charging in darkness.
Each station features between four and six charging points, although most of IONITY's sites have contracts for 10 years, which could see them expand as demand for public chargers increases. All sites receive 24-hour support – both remote and on-site – with a network of 1,500 points at nearly 400 locations across Europe already available to use.
Previously, IONITY had charged a flat fee of £8 for all charging sessions, regardless of how much electricity drivers consumed. 
However, since 31 January 2020, IONITY customers without contracts have been charged an ad-hoc rate of £0.69 per kWh, or €0.79 per kWh for locations on the continent. Those who access the network through manufacturer contracts from the likes of Audi, Mercedes, BMW and Porsche get a cheaper rate.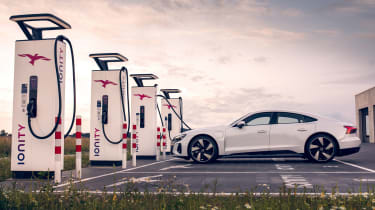 The change came partly in response to the UK government calling for card-payment capability at rapid chargers to become mandatory back in 2019.
The ad-hoc fee translates to a 0-100% charge cost of approximately £27 for a 40kWh Nissan Leaf, or around £41 for a Tesla Model 3 Long Range, although rapid chargers like these are more commonly used for topping up in smaller increments, with full charges completed on home wallboxes overnight.
If you're someone who covers long distances far more often, and are therefore more prone to using rapid charging points to top your car, drivers can also get an 'IONITY PASSPORT' for £16.99 per month. Those who sign up for the annual subscription pay just £0.35 per kWh when recharging from one of IONITY's units.
Earlier in 2021, IONITY also added 'Plug and Charge' functionality to its all chargers in Europe, with the aim of simplifying the EV charging process. 
Instead of getting out your credit or debit card, IONITY chargers are now able to automatically recognise electric cars registered with the scheme once they're connected. According to IONITY, the system uses a digital certificate authentication system to verify the information, and to protect driver's payment information.
Drivers are only charged for the electricity used once the charging cable has been disconnected, with the billing process also being automated. The list of electric cars compatible with the Plug and Charge service includes the Porsche Taycan, Mercedes EQS and Ford Mustang Mach-E.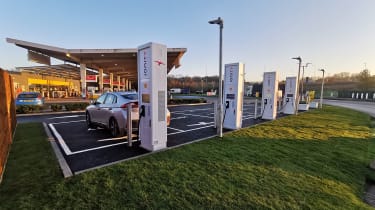 IONITY chargers in the UK
There are currently 16 active IONITY locations in the UK. These include Alnwick, Baldock, Beaconsfield, Cambridge, Chippenham, Cullompton, Gretna Green, Leeds Skelton Lake, Maidstone and Milton Keynes, as well as Channel Gateway, Cobham, Cringleford, Peterborough, Perth and Polmadie. The company's website features a map that plots both live and in-progress sites across the UK and Europe.
IONITY's first facility was built at J8 of the M20 in Maidstone, Kent, in May 2019. By mid-2019, IONITY had secured deals for 30 sites across the country and the company had a 40-strong network of rapid-charging stations in operation here by the end of 2020.
Seven completed IONITY charging stations are found at service areas run by Extra MSA Group. They include Leeds Skelton Lake (M1, J45), Cambridge (A14/M11, J28), Cobham (M25), Beaconsfield (M40, J2), Cullompton (M5, J28), Baldock (A1M, J10) and Peterborough (A1M, J17).
Energy technology company Octopus Energy – backed by Octopus Investments, which claims to be the UK's largest investor in solar power – provides the electricity for every IONITY charging station in the UK. The firm promises "100% renewable energy", giving drivers "peace of mind" regarding their impact on the environment. As well as the UK, IONITY operates a huge number of charging stations across Europe, with many more on the way.
Top 10 best seven-seater electric and hybrid cars 2021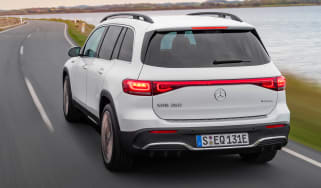 Top 10 best seven-seater electric and hybrid cars 2021
If the regular crop of electrified SUVs and family cars don't provide enough practicality for you, then take a closer look at the range of electric an…
Complete guide to the BP Pulse (formerly Polar Plus) charging network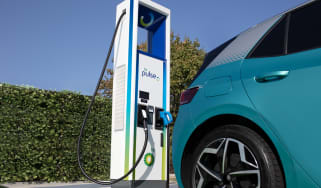 Complete guide to the BP Pulse (formerly Polar Plus) charging network
This is how to charge your electric or plug-in hybrid car on the BP Pulse public charging network (which was formerly known as the Polar Plus network)
New 2022 Vauxhall Astra Sports Tourer plug-in hybrid unveiled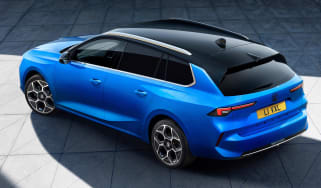 New 2022 Vauxhall Astra Sports Tourer plug-in hybrid unveiled
The estate version of the latest Astra continues Vauxhall's bold new approach to styling and will be available as a plug-in hybrid from launch