Complete guide to the IONITY charging network
The manufacturer-backed IONITY rapid-charging network is expanding across the UK and Europe – here's all you need to know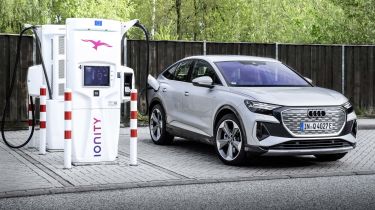 IONITY operates across the UK and Europe with 15 locations in the UK alone. While that figure might be small, IONITY is one of only two charging networks that currently operates 350kW ultra-rapid chargers. The forthcoming Hyundai Ioniq 5 and Kia EV6 will soon be the most affordable electric cars capable of charging close to the 350kW maximum speed, allowing you to recharge them from 10-80% in less than 18 minutes. First formed following Shell's acquisition of NewMotion – one of the largest charging providers in Europe – IONITY is now a joint venture involving Daimler (parent company of Mercedes), BMW, Ford, Hyundai, Kia and the Volkswagen Group brands Porsche and Audi.
IONITY recently debuted a new design of charging station for its network, dubbed the 'High-Power Charger'. The unit promises an improved user experience, incorporating an LED light ring to act as a 'beacon' at night, making it easier for drivers to find stations. The ring indicates the chargers' availability by its colour, as well as providing a well-lit area for drivers charging in darkness.
Each station features between four and six charging points, although most of IONITY's sites have contracts for 10 years, which could see them expand as demand for public chargers rises. All sites receive 24-hour support – both remote and on-site – with a network of 2,400 points across Europe planned. The number of live stations had reached 150 in 20 countries by June 2020.
Recently, IONITY announced a new kilowatt-hour-based metered pricing structure for its 350kW electric-car charging points. Previously, IONITY had charged a flat fee of £8 for all charging sessions, regardless of how much electricity drivers consumed. This change comes partly in response to the UK government recently calling for card-payment capability at rapid chargers to become mandatory.
Since 31 January 2020, IONITY customers without contracts have been charged an ad-hoc rate of £0.69 per kWh, or €0.79 per kWh for locations on the continent. Those who access the network through manufacturer contracts from the likes of Audi, Mercedes, BMW and Porsche get a cheaper rate.
The ad-hoc fee translates to a 0-100% charge cost of approximately £27 for a 40kWh Nissan Leaf, or around £41 for a Tesla Model 3 Long Range, although rapid chargers like these are more commonly used for topping up in smaller increments, with full charges completed on home wallboxes overnight.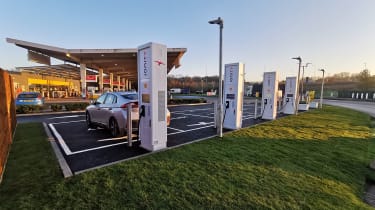 IONITY chargers in the UK
There are currently 15 active IONITY locations in the UK. These include Cambridge, Leeds Skelton Lake, Gretna Green and Milton Keynes Coachway, as well as Perth, Cullompton and Baldock. Many more are currently under construction – the company's website features a map that plots both live and in-progress sites across the UK and Europe.
IONITY's first facility was built at J8 of the M20 in Maidstone, Kent, in May 2019. By mid-2019, IONITY had secured deals for 30 sites across the country and the company had a 40-strong network of rapid-charging stations in operation here by the end of 2020.
Eight completed IONITY charging stations are found at service areas run by Extra MSA Group. They include Leeds Skelton Lake (M1, J45), Cambridge (A14/M11, J28), Cobham (M25), Beaconsfield (M40, J2), Cullompton (M5, J28), Blackburn with Darwen (M65, J4), Baldock (A1M, J10) and Peterborough (A1M, J17).
Energy technology company Octopus Energy – backed by Octopus Investments, which claims to be the UK's largest investor in solar power – provides the electricity for every IONITY charging station in the UK. The firm promises "100% renewable energy", giving drivers "peace of mind" regarding their impact on the environment. As well as the UK, IONITY operates a huge number of charging stations across Europe, with many more on the way.
Top 7 best hybrid and electric sports cars 2021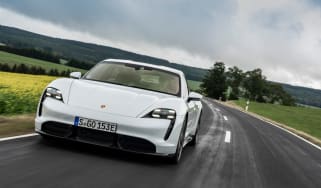 Top 7 best hybrid and electric sports cars 2021
Bringing thrills and performance with their powerful electric motors, these are the best electric and hybrid performance cars to buy in the UK in 2021
Are electric cars expensive to insure?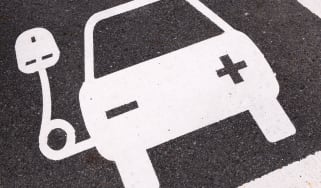 Are electric cars expensive to insure?
Everything you need to know about insuring an electric car, including how expensive it is and why
2021 Audi Q4 e-tron and Q4 e-tron Sportback: specs and prices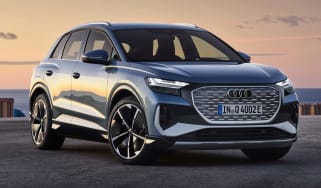 2021 Audi Q4 e-tron and Q4 e-tron Sportback: specs and prices
The pure-electric Audi Q4 e-tron and Q4 e-tron Sportback are on sale now, with prices starting from £40,750 for the regular SUV and £42,250 for the Sp…