Volkswagen ID.3 interior & comfort
The Volkswagen ID.3 feels well built, but the interior has a few too many cheap-looking plastic surfaces for our liking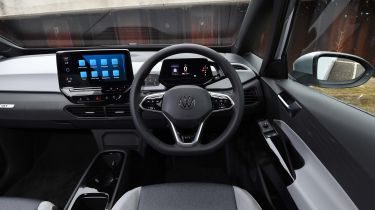 The Volkswagen ID.3 is part of a new generation of cars with barely any physical buttons in the cabin. Almost all controls are contained within the touchscreen display on the dashboard. This is both good and bad – it means the cabin looks neat and tidy, but can make functions frustrating to access while driving.
There's a small gear selector, but everything else – the navigation, climate control, audio and other functions – is controlled on the touchscreen. There's also a tablet-like screen behind the steering wheel, which takes the place of traditional dials and has lots of useful information on it.
Volkswagen ID.3 dashboard
An interesting feature of the ID.3's dashboard is the 'ID. Light' bar that runs along the bottom of the windscreen. It can change colour in certain situations, flickering white when you're giving a voice-activation command, blue when giving sat-nav directions, green when a phone call is incoming, and red when the driver-assistance technology is warning of a possible hazard.
Material quality of the dashboard is a letdown, though. Despite all the high-tech kit, it's clear Volkswagen has cut corners with the materials – the plastics look a bit too cheap considering the asking price of the car. It's a strange combination of modern screens and disappointing materials.
Equipment, options & accessories
The launch edition of the ID.3 boasts sat nav, digital radio, dual-zone climate control, seat and steering-wheel heating, front armrests, 100kW rapid-charging capability, a rear-view camera, keyless entry and go, matrix LED headlights and 19-inch alloy wheels. Lower-spec models have 18-inch alloys and go without goodies like the heated seats and matrix LEDs.
Infotainment, apps & sat nav
The 10-inch touchscreen display right in the middle of the dashboard is the main way you control the ID.3's functions.The panel is well positioned, the graphics are super-sharp and it's responsive, so it's fairly easy to use.
Apple CarPlay and Android Auto smartphone connectivity are standard, as well as built-in sat-nav. Early examples didn't have wireless phone charging, even as an option, but it is now available. There's also a smartphone app for use outside the car, which can pre-heat or cool the interior, control charging and let you see how much range you have left.
Sadly, the design of the system results in frustration when you're trying to adjust the climate control or the radio. It's simply not as easy to fine-tune these things using a touchscreen as it is with buttons, as you have to take your eyes off the road for too long to touch the right option.