Volkswagen ID.3 running costs
The Volkswagen ID.3 should be much cheaper to run than an equivalent VW Golf for most drivers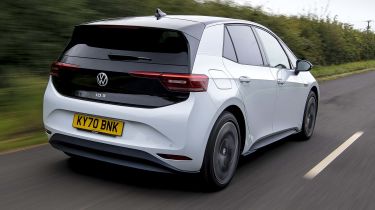 | Insurance group | Warranty | Service interval | 2020/21 company-car tax cost (20%/40%) |
| --- | --- | --- | --- |
| 28 | 3yrs / 60,000 miles | 2yrs / 20,000 miles | £0 |
The Volkswagen ID.3 costs from around £38,000 in 1ST Edition form, which is the only car available at the moment. Cheaper models will be available at a later date. This is a competitive price, putting it just above the Kia e-Niro 64kWh and Nissan Leaf e+ in their respective entry-level trims.
If you wanted the Kia or Nissan in a higher trim level, then the ID.3 is slightly cheaper despite having plenty of equipment, so while it's quite a bit more expensive than a Golf with a similar level of kit the ID.3 looks like reasonable value for money.
In our real-world test, we worked out that the ID.3 will cost around £490 a year if you stick to home charging (on an average home electricity tariff of 14.4p per kWh). Frequent rapid charges from pricey public points will see costs rise, but you do get up to £500 of this free for the first year.
The current electric-car Benefit-in-Kind company-car tax rate of 0% for 2020/21, plus exemption from the London Congestion Charge until 2025, will see business users saving even more money. 
Volkswagen ID.3 insurance group
The ID.3 sits in insurance group 28 as it stands, although you can expect cheaper and less powerful future models to be in a lower group. Group 28 is about overage for this kind of electric car, as the more powerful Nissan Leaf gets exactly the same rating. Volkswagen offers its own insurance with a three-year fixed-price rate for the car. You're not tied in, so after a year you can always switch if you find a better price.
Warranty
All Volkswagen cars have a three-year/60,000-mile warranty, which is on par with the industry standard, but falls some way behind the seven-year cover you get on a Kia e-Niro. The ID.3's batteries are also protected by an eight-year/100,000-mile warranty, so you can have peace of mind about the new technology.
Servicing
All Volkswagen electric cars have a fixed service schedule, which involves a simple inspection service after two years. From then, it's every year or 20,000 miles, whichever comes up soonest. This means the ID.3 should be a lot cheaper to service than a petrol, diesel or hybrid model – and with no oil to change, services are cheaper, too.
Road tax
As with all electric cars, you don't have to pay vehicle excise duty (VED), otherwise known as road tax, on the ID.3. It costs very little as a company car, too, since the 2020/21 Benefit-in-Kind (BiK) tax band for pure-electric cars is zero – and it'll be a long time before the tax costs are anything near conventionally-powered models for business users.