Volkswagen ID.3 range, battery & charging
The Volkswagen ID.3 is limited to one battery size for now, but it has enough range and charging capability to keep most buyers out of trouble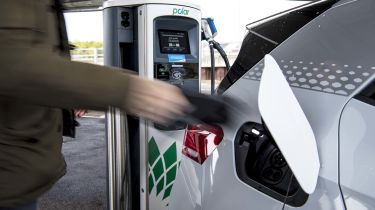 | Range | Battery size | Wallbox charge time | Rapid charge time |
| --- | --- | --- | --- |
| 260 miles | 58kWh | 9hrs 15mins (0-100%, 7.4kW) | 30mins (10-80%, 100kW) |
At the moment, the Volkswagen ID.3 is only available in 58kWh battery form, but eventually 45 and 77kWh versions will be added to the range at lower and higher price points. From launch, the ID.3 comes with up to 2,000kWh of free charging from We Charge-connected chargers. Ionity, the ultra-fast charging network partly owned by Volkswagen, is included as well. You get up to £500 worth of charging for your first year of ownership.
There's also a smartphone app that you can use to control the car's charging as well as the climate control, which allows for pre-heating on cold mornings or pre-cooling on hot ones. You can also check the level of the battery and how much range is left.
The ID.3 is able to charge from a home wallbox, of course, and this is the most cost-effective way of keeping it topped up. There's an 11kW on-board charger, so if your wallbox at home supports that rate of charging it can be topped up quicker than the standard 7.4kW rate – although you need three-phase electricity in your home for this; most UK homes don't have it.
Volkswagen ID.3 range
The only ID.3 currently available has a driving range of 260 miles, which beats the Nissan Leaf e+'s 239 miles but falls behind the Kia e-Niro 64kWh's figure of 282 miles on a single charge. Eventually a lower-priced model with a range of 205 miles will be added, plus a higher-range version with 340 miles of range. There's an Eco Assistance driving mode that can use sat-nav data to help you maximise range – for example, by telling you to lift off when a lower speed limit is approaching, saving a small amount of energy each time.
Charge time
The ID.3 is capable of 7.2kW charging from home wallboxes and 50kW charging from public rapid chargers as standard. For the moment, every car sold is a high-spec 1ST Edition with upgraded 11kW and 100kW functionality for AC and DC charging respectively. You get a Type 2 charging cable as standard, and a wallbox from Volkswagen is available as well, supporting up to 11kW three-phase charging and a 4.5-metre cable.
If you're on a normal 7.4kW wallbox, the ID.3 1ST Edition will take just over nine hours to charge from empty to full, and at 11kW that drops to just over six hours. Either should be fine for an overnight top-up. Head out to a public charger and the ID.3 takes about an hour to go from 10 to 80% charge at a rate of 50kW. Using the maximum capacity of the 1ST Edition (100kW) drops that to just 30 minutes.