Volkswagen ID.3 electric motor, drive & performance
The Volkswagen ID.3 has a powerful electric motor, so it almost feels like a hot hatchback from behind the wheel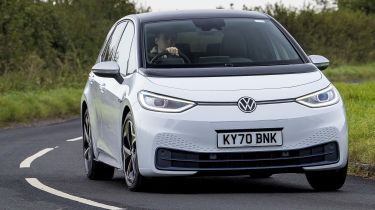 | 0-62mph | Top speed | Driven wheels | Power |
| --- | --- | --- | --- |
| 7.3-9.6s | 99mph | Rear | 143-201bhp |
The Volkswagen ID.3 weighs around 1,700kg, so it's quite a lot heavier than an equivalent petrol or diesel car. Thanks to well designed suspension and a powerful motor, though, it makes the best of its unfortunate weight problem.
Over bumpy country roads, the ID.3 is comfortable and smooth, even on the large 19-inch wheels of the example we drove. Around town, where the potholes are bigger and the speeds are lower, it's still comfortable enough to keep anyone happy.
Volkswagen ID.3 0-62mph, top speed and acceleration
The 201bhp electric motor of the Pro Performance and Pro S drivetrains sees the ID.3 go from 0-62mph in an impressive 7.3 seconds. Most of that rush is in the initial sprint from 0-30mph, where the car feels eager and smooth. 
It starts to trail off as you get up to higher speeds, which is just the nature of electric motors, as they provide all their power from the start, rather than building up like combustion engines do. The top speed is limited to 99mph as a result, but that's irrelevant to UK drivers.
A less powerful 'Pro' drivetrain, with 143bhp and a 9.6-second 0-62mph time, has now joined the range, although we haven't had the opportunity to drive it just yet.
Handling
The Volkswagen ID.3 is good to drive, and the tight turning circle means it's easy to park and move around city streets. The cabin is nice and quiet around town as well, with little road noise and that near-silent electric motor.
This is not the most exciting car to drive, however, despite being a rear-wheel-drive model with over 200bhp. Instead, it's solid, safe and easy to drive rather than having any sporty pretensions. Still, the punchy performance means that there's enough fun to be had from behind the wheel. It leans in the corners more than a Golf would but it's just as grippy and agile overall.