Lucid Air review
Lavish, long-legged and ludicrously fast, the Lucid Air is the future – and we're excited for what it holds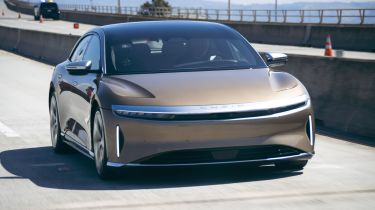 Pros
Drives well
Impressive technology
300kW ultra-rapid charging
Cons
Will be expensive
Not on sale in the UK yet
Some rivals are even faster
| Model | Range | Wallbox charge time | Rapid charge time |
| --- | --- | --- | --- |
| Pure | 450 miles | 13hrs 30mins (0-100%, 7.4kW) | 16mins (10-80%, 300kW) |
| Touring | 450 miles | 13hrs 30mins (0-100%, 7.4kW) | 16mins (10-80%, 300kW) |
| Grand Touring | 521 miles | 16hrs 45mins (0-100%, 7.4kW) | 19mins (10-80%, 300kW) |
| Dream Edition | 535-549 miles | 16hrs 45mins (0-100%, 7.4kW) | 19mins (10-80%, 300kW) |
| Sapphire | TBC | 16hrs 45mins (0-100%, 7.4kW) | 19mins (10-80%, 300kW) |
Audi, Mercedes and Porsche have all taken a swing at the Tesla Model S with their flagship electric saloons. While each has its merits, the Model S is still hard to beat a decade after it went on sale. But if anything is going to steal the crown from the luxury EV that started it all, it's the Lucid Air.
It's understandable if you've never heard of Lucid until very recently. The California-based startup has been around for more than a decade developing EV battery technology, but it was only in 2016 that it declared its ambition to produce an electric car. At the helm is CEO Peter Rawlinson, who was the chief engineer for the Model S, while the Air's designer was responsible for the latest Mazda MX-5, among others. This is far from an inexperienced band of amateurs. 
We've confirmed that a right-hand-drive version of the luxury electric saloon will go on sale in the UK at some point, but exactly when that'll happen has yet to be determined. However, we've managed to get behind the wheel of a left-hand-drive example here on British soil, in order to get a glimpse of what we can expect from this supposed Tesla-toppler.
The first models in Europe will be the limited-run Dream Edition Performance and Dream Edition Range. Both not only sound like an overpriced mattress, but they also come with a 118kWh battery, 300kW ultra-rapid charging and dual electric motors for all-wheel drive. Although, as their names suggest, they have their own specialties.
The Dream Edition Range is sure to make headlines when it eventually goes on sale in the UK, as WLTP tests have revealed it boasts a combined range of up to 549 miles – the longest of any production car on sale. The only other EV that comes close is the Mercedes EQS, but that can only manage 453 miles before it runs out of juice. And that doesn't mean the Dream Edition R is a slouch; with 933bhp on tap, it accelerates from 0-62mph in 2.9 seconds – faster than a Taycan Turbo.
The Dream Edition Performance on the other hand spits out 1,096bhp and 1,390Nm of torque from its pair of electric motors for a 0-62mph time of just 2.7 seconds. If that's hard to wrap your head around, that's because this big luxury saloon is faster to 62mph than Ferrari's latest supercars. It still has a range of 535 miles on the WLTP test cycle, although a heavy right foot is sure to bring down that figure somewhat.
There are several more versions on the Air to come – including Lucid's answer to the Tesla Model S Plaid – but for now let's dive into our time behind the wheel of the 1,100bhp-plus Dream Edition Performance. In 'Smooth' driving mode, the steering lacks a little feedback, but it's light, making the car feel easy to place and manoeuvrable. Switch to 'Swift' and the Air becomes more engaging, but it's only in full-fat 'Sprint' mode that you get that 1,111bhp hit. This is where the two-tonne saloon feels Bugatti-fast: powerful but effortless.
The Air is five metres long, with a wheelbase of just under three metres, but it doesn't feel ungainly out on the road. It may not quite have the precision of the Porsche in the bends, but the steering has enough weight to it and it rides much better than a Model S thanks to well-damped suspension. Wind noise is kept to a minimum thanks to the Lucid's slinky shape, while bumps do little to throw off the luxury EV's unflappable manner.
Partnership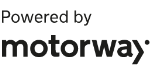 Need to sell your car?
Find your best offer from over 5,000+ dealers. It's that easy.
Perhaps more impressive, though, is the level of tech on offer. There's no 56-inch wide Hyperscreen here, but the driver does get a gently curved 34-inch 5K panel for the instruments and infotainment – once again, like the Taycan. There's also a row of physical shortcut buttons for essentials like climate control, while the second retractable 'Pilot Panel' on the centre console is there if you need to adjust settings. The setup works well, with the plush interior as a whole offering a real sense of occasion.
Then there's what's under the striking bodywork. The Lucid Air uses a bespoke platform and a 900-volt charging system, making it the first production model capable of charging at more than 300kW. Plug the Air into a 350kW ultra-rapid point and you can add up to 300 miles of range in 20 minutes. This is one of the few EVs that delivers flexibility when it comes to both range and charging.
Lucid also offers its own take on Tesla's 'Autopilot', which it calls 'DreamDrive Pro'. It uses a total of 32 sensors, including Lidar, radar and cameras dotted around the car, to allow for autonomous driving capability. Lucid's suite of driver-assistance systems includes highway assist, incorporating adaptive cruise control and lane-keeping assistance, blind-spot monitoring with blind-spot display and automatic parking. The Air can also accept over-the-air (OTA) software updates.
Practicality is good, too, with plenty of space inside and 626 litres of rear boot capacity, complemented by a 283-litre storage area in the nose – something the Mercedes EQS and BMW i7 both lack. But of course, the Lucid Air's incredible capabilities come at an incredible price. In Germany both Dream Edition models start at €218,000 (roughly £188,000 at the time of writing), which is a lot in isolation, but seems even more expensive when you realise that's £30,000 more than Mercedes is charging for the AMG-tuned EQS 53 and over £40,000 more than what you'll pay for the range-topping Porsche Taycan Turbo S.
Thankfully, there are three more versions of the Lucid Air with far less hefty price tags still to come. Specifically, the entry-level Lucid Air Pure, which is already on-sale in the US from $87,400. That's roughly £70,000 at the time of writing – a full £35,000 less than the cheapest Mercedes EQS. It still has plenty of poke, with 480bhp on tap from a single motor, and a range of over 400 miles.
Above that will be the Lucid Air Touring, which gets all-wheel drive and a healthy 620bhp power output. Like the entry-level Pure, it uses a 92kWh battery for over 400 miles' range. Next up is the Air Grand Touring, with its 521-mile WLTP range – this is the most expensive model currently on sale, aside from the aforementioned 'Dream' specifications.
The final model still to come is the Air Sapphire, which uses a tri-motor setup – one motor on the front axle, and two at the rear. Lucid hasn't shared exact power output or performance figures for its Tesla Model S Plaid fighter just yet, but says it'll produce over 1,200bhp, have a top speed exceeding 200mph and will be capable of 0-62mph in less than two seconds. The high-performance flagship also features a set of carbon ceramic brakes and track-tuned suspension, with prices in the US starting from just shy of $250,000 (roughly £200,000). Exactly when the Lucid Air Sapphire will come to Europe is also unclear for the time being.
We're excited to experience the different versions of the Air, as our first taste of the luxury electric saloon in Dream Edition form revealed it to be a genuine Tesla Model S and Porsche Taycan rival. The US startup's first car not only drives well, but features hugely impressive technology and performance that others in this class can't touch. Its full UK debut can't come soon enough.