Tesla Model X electric motor, drive & performance
The Tesla Model X sets the benchmark for performance in an electric SUV, even if a Jaguar I-Pace is more fun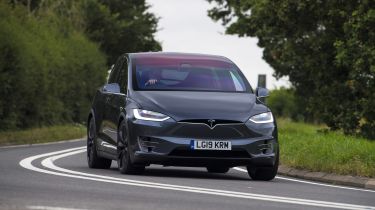 | 0-60mph | Top speed | Driven wheels | Power |
| --- | --- | --- | --- |
| 2.6-4.4s | 155mph | Four | 611bhp |
The Tesla Model X weighs in at around 2,300kg or more, which makes the devastating performance you get in the Performance all the more astonishing when you experience it. It's genuinely shocking when you first get fired up the road, mostly thanks to the silent, unflappable way the car executes such acceleration.
Handling is a bit flat-footed due to the sheer bulk of the thing, and the steering is devoid of feedback, but the Model X is precise and neutral enough to be genuinely satisfying on a swift drive down your favourite country road.
Tesla Model X electric motor, 0-62mph and acceleration
Let's start at the top, with the Performance. It's flat-out bonkers; a YouTube sensation of a car, that will beat the most banzai of supercars off the line, and will likely see 60mph first, too, given the 2.6-second sprint time. 'Ludicrous Mode' is now standard on the top-spec car, having previously been an optional extra worth thousands, while an over-the-air update in April 2020 added 'Cheetah Stance' to the car's abilities, allowing it to hunker down ahead of a standing start for improved traction.
It sets a benchmark and then some for electric SUV performance, and the Long Range version is also pretty gobsmacking: its 0-60mph figure comes in at 4.4 seconds, while top speed across the line-up is 155mph.
For all the savagery of the Tesla's acceleration if you choose to use its full potential, it's also a very easy car to drive thanks to the progressive nature of the electric motor. You can make easy progress through the ebb and flow of town traffic without giving it much thought at all.
Handling
The Model X can't really be described as agile, but it doesn't suffer the lumbering, ponderous handling of some large SUVs. This is thanks to the batteries sitting low in the body, which means the Model X has an extremely low centre of gravity, which in turn minimises body lean.
Both variants use Tesla's dual-motor, four-wheel-drive system, so there's masses of traction to ensure they feel planted even on poor surfaces or in bad weather. It all feels neutral and grippy enough that you can swing the big Tesla through direction changes with cheerful gusto.
There's even 'smart' air suspension with adaptive dampers, which can vary the car's ride height depending on speed and the kind of surface you're travelling on, also taking into account data from the sat nav. It's a shame, then, that the Model X's steering feels rather unconvincing and artificial. It's a bit computer-game-like – accurate and controllable, but you rely on your eyes and ears to gauge when the Tesla is close to its limits.