New Tesla Model 3 versus used Tesla Model S: which should you buy?
The Tesla Model 3 has few if any direct rivals, but what about a used Model S? We put a Model 3 Standard Range up against a secondhand Model S 75D
The Tesla Model 3 represents another step change for the electric car. A more affordable way into Tesla's trademark blend of long-range driving, low-cost performance, a high-tech interior and access to the Supercharger network that has helped establish the brand as a trailblazer in electric vehicles. The Model 3 is the Model S for the masses.
But what about the Model S itself? It's been in the UK since 2013, and was the equivalent of a vehicular moon landing, such was its significance. We still rate it as one of our favourite electric cars, so what about a used one? You can get an early Model S from as little as £40,000 in the UK, although later, four-wheel-drive cars with bigger batteries, including the 75D that we have here, can cost tens of thousands more than that.
2019 Tesla Model 3 Standard Range Plus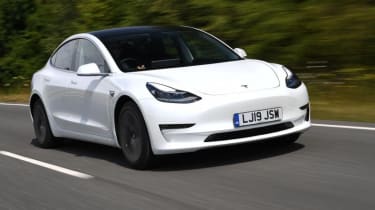 Pros: Great to drive and faster charging, long warranty and low monthly cost
Cons: Tight rear passenger space, not as quick as Model S
2017 Tesla Model S 75D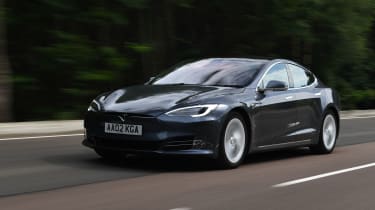 Pros: Masses of passenger space, bigger touchscreen
Cons: Real-world range, fussy infotainment interface
At a glance
| Car | 2019 Tesla Model 3 Standard Range Plus | 2017 Tesla Model S 75D |
| --- | --- | --- |
| Price | £37,340 (after grant) | from £45,000 (estimated) |
| Estimated monthly cost* | £403 | £950 |
| Energy consumption / real-world range | 4.3 miles/kWh / 230 miles | 3.1 miles/kWh / 230 miles |
| At-home charge cost (13p/kWh) | £7.00 | £10.50 |
| Fastest 20-80% charge time | 15mins (200kW) | 35mins (120kW) |
| 0-60mph (on test) | 5.8s | 4.3s |
| Boot capacity, litres (seats up/down) | 660/1,725 | 557/1,176 |
*PCP estimate, based on a 48-month contract with a £6,000 deposit
So how has the Model S aged? How far will it go with a few thousand miles on the clock? Is it really worth risking a secondhand Model S instead of settling for a brand-new Model 3? We put a Model 3 Standard Range Plus up against a 2017 Tesla Model S 75D with 25,000 miles on the clock to find out.
Read on for our verdict...