New Tesla Model 3 versus used Tesla Model S: running costs & warranty
You get a longer warranty on a new Model 3, but its mileage is limited where the Model S' isn't. Both are well equipped and temptingly priced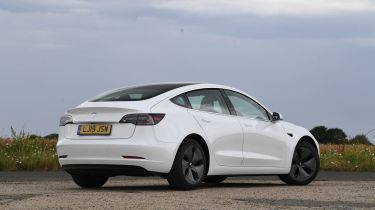 With the exception of pre-2015 Model S' with 60kWh packs, all Model S variants come with an eight-year battery warranty that has no mileage limit. The Model 3's battery pack is also covered for eight years and 100,000 miles, but it comes with a guarantee that it'll be refurbished or replaced if it drops below 70% of the as-new performance within the warranty period.
Both cars are well equipped. Our Model 3 test car came with no optional equipment at all, yet had all the comforts and conveniences you could want of an executive car, while finding a used Model S with an appealing spec isn't hard at all. Adaptive cruise control, keyless entry, LED headlights, full sat nav, over-the-air software updates, heated seats and leather upholstery are included on both.
The full 'Autopilot' semi-autonomous driving system is one expensive option that adds a lot to the value of a used Model S, or will cost £5,800 to spec on a new Model 3. For the price of a high-spec Model S 75D, you can also easily be looking at the Long Range or Performance versions of the Model 3, which get satellite-view navigation, different (and better-looking) wheel design and an upgraded sound system. Not to mention hysterical pace and four-wheel drive.
Notably, the Model S falls down next to the Model 3 on monthly costs, which could really be the deciding factor for many. A fairly modest deposit of £6,000 will see monthly costs for a Model 3 Standard Range drop to around £400, while even a used Model S (if you go through the Tesla approved used finance channel, at least) is likely to be closer to £1,000 per month.
Warranty and battery cover
The Tesla gets a standard manufacturer warranty of four years or 50,000 miles, which is pretty low on the mileage side, but does cover a longer time period than most rivals. The batteries are covered for eight years; the Model S has no mileage limit while the Model 3 gets cover for 100,000 miles but also has a performance promise of at least 70%.
Depreciation
The Model 3 is predicted to hold 69% of its value after three years and 36,000 miles, which equates to £25,645 and is a fairly remarkable rate of retention. For context, a new BMW 320d M Sport is predicted to hold 45% and be worth £17,173. It's worth bearing in mind that comparatively small loss in value if you're considering paying on finance; those with the means to buy the Model 3 outright could well find it's cheaper to do so and then sell on.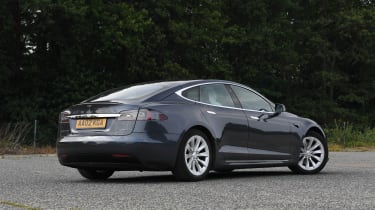 Buying a used Model S means that you've already dodged the worst of the loss in value, of course. Looking at how other Model S' – even those with rear-wheel drive or smaller batteries than the 75D we'd go for – are still holding their value, so depreciation is likely to be impressively slow. Especially in comparison the generally very poor resale values of big executive cars.
Company-car costs
Going electric is a guaranteed way to cut your company-car tax bills, and the Model 3 is one of the best going. The Standard Range will set a 40% taxpayer back just £2,710 a year in the 2019/20 tax year, and from 2020/21 that drops to £0. It then rises to just £169 in 2021/22. If your company will fork out the lease or purchase costs to get you into a Model 3, then it's an absolute no-brainer.
Running costs & warranty scores