New Tesla Model 3 versus used Tesla Model S: verdict
There's no bad car here, so you can pick which one suits your lifestyle and budget best, but the Model 3's lower costs sway it for us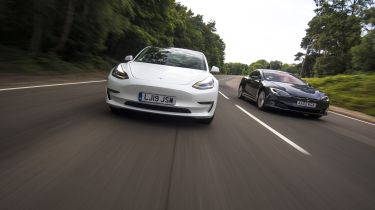 First place: Tesla Model 3
The Model 3 really is as significant a car as the Model S was when it arrived. It takes all of the Model S' great aspects and makes them more accessible, and it's that accessibility that secures the win here.
The monthly finance in particular will make a Model 3 more affordable for a lot of people, where the Model S may remain out of reach even on the used market.
Added to that the interior design, faster charging capacity, impressive equipment levels and a tidy, enjoyable handling and comfort, and we're totally sold on it.
Second place: Tesla Model S
This is still one of the best electric cars out there, and it does feel a class above the Model 3. It comes with a sense of 'Lording It' over others that the daintier Model 3 misses out on.
Not only that, the space and performance are good enough reasons on their own to justify a full-fat Model S (although the 3 Performance can of course punch just as hard as most S variants).
It's money that sways it in the end. Not only finance, but even buying outright you can be looking at a lot more for a used S than a new 3, and that's enough to tip the scales in the smaller car's favour.
| | | |
| --- | --- | --- |
| Specs | 2021 Tesla Model 3 Standard Range Plus | 2017 Tesla Model S 75D |
| Price | £40,990 | from £40,000 (estimated) |
| Electric motor(s) | Single | Dual |
| Power | 245bhp | 362bhp |
| Torque | 375Nm | 660Nm |
| Transmission | Single-speed auto, rear-wheel drive | Single-speed auto, four-wheel drive |
| 0-60/30-70mph (on test) | 5.8/4.5s | 4.3/3.5s |
| Top speed | 124mph | 124mph |
| Braking (70-0/60-0/30-0mph, on test) | 47.9/35.5/8.8m | 42.8/35.6/12.3m |
| Energy consumption (on test) | 4.3 miles/kWh | 3.1 miles/kWh |
| At-home charge cost (13p/kWh) | £7.00 | £10.50 |
| Tailpipe CO2 emissions | 0g/km | 0g/km |
| Road tax | £0 | £320 (years 2-6) |
| Length | 4,694mm | 4,979mm |
| Width | 1,849mm | 1,964mm |
| Height | 1,443mm | 1,445mm |
| Wheelbase | 2,875mm | 2,960mm |
| Boot volume | 425 litres | 748 litres |
​