New Tesla Model 3 versus used Tesla Model S: driving & performance
The 75D is hilariously fast despite being one of the 'lesser' Model S variants, while the Model 3 feels perfectly judged for UK roads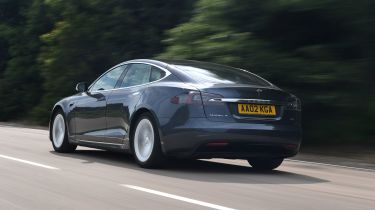 Let's get something straight: neither of these cars is slow. To say that the Model 3 is slow compared to the Model S is like stating a chainsaw is more dangerous than an axe. Both are pretty sharp.
So it is with these two Tesla marvels, but the reality is that the four-wheel-drive Model S with its dual motors and 362bhp punches up the road with a bombastic disregard for what your stomach was expecting such a heavy-feeling car to do. Given that this was, for many years, the 'entry-level' Model S, it feels anything but entry-level, and our tested time of 4.3 seconds from zero to 60mph backs that up.
Sure, it still delivers its shock-and-awe in the form of straight-line pace and stoic neutrality. It's not a sports car, nor is it as textural or involving as some comparable rivals like a BMW M5 or Mercedes-AMG E63, but there's fun to be had in the Model S, even on the most boring of roads.
The Model 3 is a very different creature. Its shorter wheelbase and the rear-wheel-drive setup of the Standard Range (the other variants get four-wheel drive and longer range) makes it feel a notch closer to a sports car than a cruiser. The 245bhp on tap feels spot-on for delivering hearty pace without being intimidating, and the way it jinks neatly through corners with predictability also makes it impressively usable on a decent country road.
It also falls short of the more entertaining handling character you can enjoy in a BMW 3 Series, or even some of the smaller performance alternatives like an Audi RS3 or BMW M2. But it's still fun in a zestier way than the more brutal Model S.
Both are accomplished commuters, with ride comfort that's unlikely to bother you, even if you cover a lot of scruffy town roads. The Model S is perhaps a touch lumpier than you'd expect of a car with standard air suspension, while the Model 3's chunky tyre walls and forgiving suspension do a fine job just about everywhere.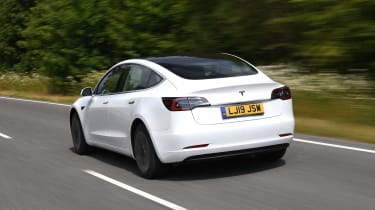 Safety
The new Model 3 gets adaptive cruise control, autonomous emergency braking, blind-spot warning and lane-keeping assistance, as well as the usual suite of airbags (not including a driver's knee airbag). The full 'Autopilot' semi-autonomous driving mode is a £5,800 option; it means the car will stay in lane, steer and even change lane or leave the motorway onto a slip road when you indicate, provided the systems see that it's safe to do so.
You do have to remain alert and in control – it remains only semi-autonomous, even if it's the most advanced autonomous driving mode in current mainstream production.
The Model S got fewer standard safety systems when it was first launched, but many used cars have the full enhanced Autopilot features that give it the same level of autonomy as the 3 and make it one of the safest cars around. Both scored five stars in Euro NCAP crash tests, although the S was tested under a more lenient scoring process.
Driving & performance scores