SEAT Mii electric (2020-2021) motor, drive & performance
The Mii electric is pleasant to drive and zippy around town, but feels a little out of its depth at higher speeds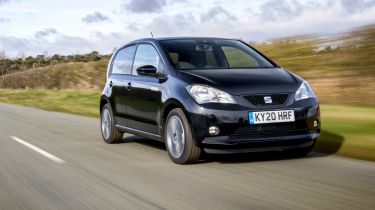 | 0-62mph | Top speed | Driven wheels | Power |
| --- | --- | --- | --- |
| 12.3s | 81mph | Front | 82bhp |
Generally, the Mii electric is a fun car to drive – its light weight doesn't trouble its torquey electric motor, so performance feels brisk and effortless, particularly at town-driving speeds. 
That keenness around town pairs with the Mii's small proportions to make it easy to guide through narrow streets and park in tight spaces. A handful of driving modes are offered, focusing on comfort, performance and efficiency. The Eco mode limits acceleration noticeably, although on our test run, the range estimate on the dashboard didn't rise by enough to really justify the drop in performance.
Energy is recycled by the regenerative braking system (in order to boost range); you can choose the strength of the deceleration applied: the lowest setting allows you to coast when you lift off the throttle, as you would in a conventional car. Meanwhile, the highest mode can bring the car to a complete stop without needing the brake pedal: if you can anticipate the traffic flow ahead, full single-pedal driving is achievable.
SEAT Mii electric 0-62mph, top speed and acceleration
The Mii electric feels nifty around town, with a 0-31mph figure of 3.9 seconds translating into a handy burst of speed from a standing start. However, that acceleration quickly tails off, with the SEAT needing another 8.4 seconds (a total of 12.3 seconds) to hit 62mph from zero.
On the motorway, you won't struggle to keep up with traffic, but you'll almost certainly be aware that the electric motor is reaching its limits of performance. And with no engine noise to drown anything out, you'll notice the wind noise from the mirrors a lot more the faster you go. If you do a lot of motorway miles, these are factors that might make you think twice.
Handling
Behind the wheel, it's impossible to ignore the additional bulk that has been piled on as a result of the car's electric transformation. The powertrain and battery have caused the weight to rise to 1,235kg, a figure that's reflected in heavier steering and an increased turning circle.
That said, the petrol Mii was one of the most composed cars in the class, and the new one retains that polish: the chassis still handles well and the tauter suspension copes commendably with potholes and speed bumps without causing much in the way of body lean through corners.