SEAT Mii Electric: Living with it
In theory, the tiny Mii Electric is the ideal city car for today, but what's it like to live with in reality? We ran one in London for a few months to find out...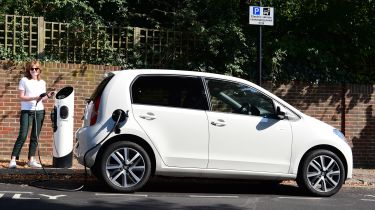 Report 1: Introducing our Mii electric
Receiving the keys to my SEAT Mii electric, I was filled with a mix of enthusiasm and trepidation. The idea of driving an electric was not the issue, it was the fact that I couldn't charge the Mii at home. However, I do have a Source London charging point only a 10-minute walk from my house, so when I knew the car was coming, I signed up.
My membership card arrived within a few days and the £4 monthly fee means I get a slight discount, with the 7.4kW points costing 3.6p per minute of use. I've lived with an electric car before, so I do know it's possible to get along with the intricacies of keeping a car charged up, but what I wasn't so sure about was the Mii's size.
After running a MINI Clubman, the Mii looked so tiny, but upon getting in and living with the Mii for a bit, you never feel like you're driving around in a piece of carry-on luggage. The SEAT is a triumph of packaging, but on the road I'm sometimes reminded that it's a small car. There are some quite large traffic-calming road humps where I live, but as long as I take them with care, the car copes fine.
Like a lot of other people this year, I haven't done quite as many supermarket trips as usual. Instead, I've usually left it a few weeks between stock-ups, but this does mean the SEAT's 251-litre boot is really put to the test. With a bag tucked behind each front seat we haven't found it a nuisance, though. I didn't find anyone over 6ft 2in had any issues sitting in the front, but passengers in the back did find the Mii a bit of a squeeze.
What I've really enjoyed about the Mii is the car's regenerative braking. There are three levels and you can adjust it depending on how much you want to slow when you lift off. I haven't driven too much in the more aggressive B mode, which is mainly for stop-start traffic and allows one-pedal driving. The car virtually comes to a halt when you lift off, which can be slightly disconcerting if you're not used to it. And can be startling for those in the back if they've never experienced it before or just weren't paying attention!
One thing I'm not totally convinced about is the interior. It feels like a real mix of budget car with a few touches that try to give it a lift. The cloth upholstery is smart and the front seats with integrated headrests look good and are comfortable, while leather trim on the steering wheel, gearlever and handbrake mean the touch points feel good. 
The radio, however, isn't such a high point, because there's only a small screen, although the smartphone cradle is easy to use and makes up for it. The bright, patterned dashboard design won't be to everybody's taste, but I like it – some think it looks like marble, but it reminds me more of Arsenal's current away strip!