Hyundai Ioniq 5 vs BMW iX3 vs Volvo XC40 Recharge: running costs and warranty
All three models have low running costs, including company-car tax, but the Hyundai's lower insurance ratings and comprehensive warranty put it ahead here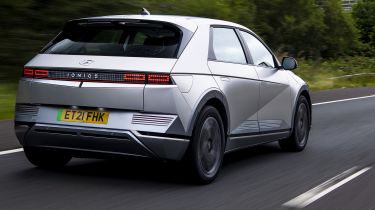 Something Hyundai is known for is one of the most comprehensive warranties in the business, and Ioniq 5 owners too get that five-year/unlimited-mileage guarantee. The BMW's standard warranty package also works on an unlimited-mileage basis, but only for three years, while the XC40 is covered by Volvo's three-year/60,000-mile warranty, which is pretty average.
But, like all electric cars, not only are service intervals for this trio longer than equivalent petrol or diesel-engined models, maintenance costs are generally lower, too. They're all also exempt from the London Congestion Charge and road tax (VED) for the time being. Of this trio, the Ioniq 5 has the lowest insurance grouping – 41 versus 42 for the Volvo and 50 for the BMW. However, based on our representative quotes, that would result in only a 10% price difference between the Ioniq 5 and the priciest XC40, which we have here.
The BMW is the most expensive to buy as well. Our Premier Edition Pro example had a list price of nearly £61,000, however, the iX3 was facelifted in late 2021 and the new top-spec M Sport Pro versions now starts from close to £64,000. The XC40 Recharge Twin Pro, on the other hand, comes in just under £57,000, while the Ioniq 5 we tested costs less than £43,000.
All three qualify for the 1% Benefit-in-Kind (BiK) tax rate, making them extremely cheap to run as company cars. A 20% taxpayer will fork out only £84 a year to run a rear-drive Ioniq 5 in Premium trim, while the versions of the iX3 and XC40 we tested have similarly low annual BiK bills of £129 and £113 a year respectively. For the 2022/23 financial year, each will climb into the 2% BiK band, so those figures – and the gaps between them – will double, however, they each represent thousands of pounds saved in comparison to running a similarly priced diesel or even plug-in hybrid alternative.
When it comes to efficiency, the Volvo falls behind, as it returned just 3.1 miles per kWh during our time with it. That means it'll cost about £557 a year to charge up for 12,000 miles of driving, at a typical home energy cost of 13p per kWh. That's compared to the Ioniq 5 and iX3, both of which achieved 3.5 miles per kWh. As a result it would cost from around £494 a year to cover 12,000 miles on the same energy tariff. Of course, those costs could be reduced even further by making sure you only charge up off-peak.