Hyundai Ioniq 5 vs BMW iX3 vs Volvo XC40 Recharge: verdict and specifications
The Hyundai Ioniq 5 claims victory over its pricer competition from BMW and Volvo thanks to its spacious cabin, ultra-rapid charging capabilities and supremely comfortable ride quality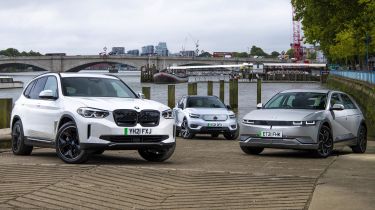 1st: Hyundai Ioniq 5 – 5.0 stars
It seems the Ioniq 5 is the car sent to prove the badge snobs wrong. Hyundai's new electric family car not only undercuts both the iX3 and the XC40 Recharge in terms of the price, but its comfortable ride, boatloads of technology and ultra-rapid charging speed are what earn it top spot in this hotly contested triple test. Read our full review for more.
2nd: Volvo XC40 Recharge – 4.0 stars
Deciding between the remaining contenders in this test was tough. However, the Volvo is simply much less expensive per month then the BMW, despite the level of kit the XC40 Recharge comes with as standard. While it's not quite as spacious as the iX3, it can still happily serve as a family hauler and the dual-motor setup in our test car provides stunning levels of performance. Read our full review for more.
3rd: BMW iX3 – 4.0 stars
It's worth stating up front that the iX3 is an exceptionally good electric SUV, with all the qualities you'd expect from a BMW product: the quality of the interior is wonderful and it's certainly the one from this comparison keen drivers will be making a beeline for. But it's also the most expensive of the three, and when compared to the capabilities of its competition here, the iX3 can't quite claim the top spot. Read our full review for more.
Specifications
| Car | Hyundai Ioniq 5 Premium 73kWh RWD | Volvo XC40 Recharge Twin Pro | BMW iX3 Premier Edition Pro |
| --- | --- | --- | --- |
| List price / price as tested | £41,945 / £42,895 | £56,700 / £56,700 | £60,945 / £60,945 |
| Engine | Single electric motor | Dual electric motors | Single electric motor |
| Transmission | Single-speed, rear-wheel drive | Single-speed, four-wheel drive | Single-speed, rear-wheel drive |
| Battery capacity (total / usable) | 73 / 72.6 kWh | 78 / 75 kWh | 80 / 74 kWh |
| Power / torque | 215bhp / 350Nm | 402bhp / 660Nm | 282bhp / 400Nm |
| 0-62mph | 7.5 seconds | 4.9 seconds | 6.8 seconds |
| Top speed | 115mph | 112mph | 112mph |
| Annual electricity (12k/20k miles) | £494 / £823 | £557 / £929 | £494 / £823 |
| Charging speeds | 3.7 / 11 / 220kW | 3.7 / 11 / 150kW | 3.7 / 11 / 150kW |
| Charging times | 23h 15min / 10h 53min / 17min (10-80%) | 21h / 7h 30min / 40min (10-80%) | 22h 30min / 11h 45min / 27 min (10-80%) |
| Official range | 300 miles | 256 miles | 281 miles |
| On-test efficiency / range | 3.5m/kWh / 254 miles | 3.1m/kWh / 233 miles | 3.5m/kWh / 259 miles |
| Road tax / BiK / annual BiK for 20% taxpayer | £0 / 1% / £84 | £0 / 1% / £113 | £0 / 1% / £129 |
| Length / width / height / wheelbase | 4,635 / 1,890 / 1,605 / 3,000mm | 4,425 / 1,910 / 1,651 / 2,702mm | 4,682 / 2,011 / 1,565 / 2,990mm |
| Boot capacity (seats up/down) | 527 / 1,587 litres | 452 / 1,328 litres | 510 / 1,560 litres |