Hyundai Ioniq 5 vs BMW iX3 vs Volvo XC40 Recharge: range and charging
The Ioniq 5 leaves both the iX3 and XC40 behind here, thanks to its 220kW ultra-rapid charging speed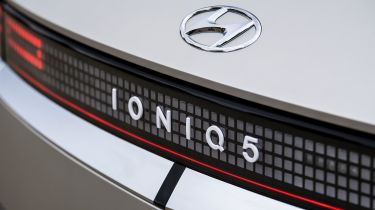 The Ioniq 5 we have here is a single-motor, rear-wheel-drive car with the larger 73kWh battery. It offers the longest range of the three models on test, at 300 miles. The all-wheel-drive version has a maximum range of 287 miles, while the entry-level car gets a smaller 58kWh battery for a shorter 240-mile range.
Both the iX3 and XC40 are only available with one size of battery: the iX3 has an 80kWh unit that allows it to cover up to 286 miles on a charge. However, while the Volvo has a slightly smaller 78kWh battery, its range is far shorter, with this all-wheel-drive version recording an official figure of just 259 miles on a full top-up.
During our time with all three cars, the Volvo was also the least efficient, returning just 3.1 miles per kWh, while the BMW and Hyundai returned 3.5 per kWh. That translates to a real-world range of around 233 miles for the XC40 – the shortest by far of the three. In comparison, we calculated the Ioniq 5 will return around 254 miles, which is just five less than the BMW should be able to cover. 
Charging
All of these cars feature rapid charging as standard, however while the iX3 and XC40 top out at 150kW, the Ioniq 5 can replenish at up to 220kW. At the moment, the only cars that can top that maximum charging speed are the Hyundai's sister car the Kia EV6, as well as the much more expensive Audi e-tron GT and Porsche Taycan electric four-door coupes.
So if you're able to find a fast enough ultra-rapid charging point (and there aren't many in the UK right now) you can recharge the Hyundai's 73kWh battery from 10 to 80% in just 18 minutes. The same task will take around half an hour to complete in the BMW or the Volvo, if you use a charging point capable of 150kW or more.
Most of the time, however, you'll be topping these cars up from a home wallbox overnight. It'll take 12 hours to fully recharge the 78kWh battery in the Volvo from flat using a 7.4kW unit, and very slightly less to do the same with either the BMW or the Hyundai.