Audi Q4 e-tron vs Mercedes EQA: running costs and warranty
While both cars are great when it comes to low company-car tax; the Audi's lower insurance group rating and better efficiency make it the winner in this category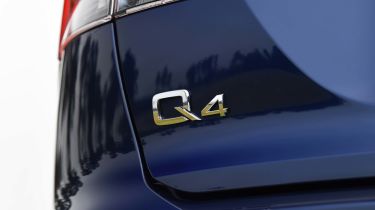 Both of these models would make company cars for those looking to switch from petrol or diesel to electric. Like all electric cars, both the Audi and Mercedes attract a BiK (Benefit-in-Kind) company-car tax rate of just 1% for the 2021/22 financial year, which means 20% taxpayers will pay just £90 a year in company-car tax for the Q4 e-tron here and £89 for the EQA.
Both the Q4 e-tron and the EQA are also exempt from any road tax and the London Congestion Charge for the time being.
When it comes to insurance, the Audi does significantly better than the Mercedes, as the mid-tier 40 Sport variant we tested sits in insurance group 29, and even the top-of-the-range 50 Quattro model lands in insurance group 39. Meanwhile, the entry-level EQA 250 Sport sits in insurance group 42, while top-spec models can reach group 48 out of 50.
The Audi is also more efficient; when tested, the Q4 e-tron returned 3.4 miles per kWh. That means it would cost you around £459 a year to cover 12,000 miles if you charge at home on a typical home energy tariff of 13p per kWh. The Mercedes meanwhile would cost slightly more, as it returned 3.1 miles per kWh, which equates to around £503 a year to cover 12,000 miles at the same home energy rate. Of course, both of those cost figures could be reduced even further with the use of a dual-rate tariff.
However, while neither car gets anything as long-lasting as Kia's seven-year/100,000-mile warranty, both get a three-year guarantee – the Q4's limited to 60,000 miles, while the Merc's is unlimited. The Audi has a two-year/19,000 mile service interval, the Mercedes has one-year/15,000-mile service intervals.