Audi Q4 e-tron vs Mercedes EQA: space and practicality
The EQA may feel spacious in its own right, but it can't match the vast expanse of the Q4 e-tron's cabin or the size of its boot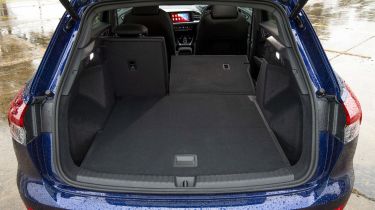 With no internal-combustion engine or bulky transmission to package into an electric car, brands have been making the most of this new found freedom when it comes to designing their electric cars – especially SUVs. The Audi is the perfect example of this, because while it's only 104mm longer than the company's Q3, the Q4 e-tron's cabin feels vast in comparison.
Rear legroom is a particular highlight in the Q4 e-tron, with plenty of headroom and adequate space for three people to sit across the back row. There's also lots of clever storage options up front to help hide away your stuff, although the door bins are a little small.
Better still is the fact that the spacious and airy cabin of the Audi doesn't come at the expense of practicality or boot space, as there's a whopping 520 litres of space on offer – that's more than you get in the bigger, petrol and diesel-powered Q5 SUV. The Q4 e-tron's load capacity grows even further when you fold the rear seats down flat, with up to 1,490 litres of space available.
The Audi's optional 'Function Package' adds a variety of storage nets to the Q4 e-tron, plus a luggage compartment cover that can be stowed under the boot floor. Whether it's worth the extra £325 is up to you.
However, while the Q4 e-tron demonstrates the advantages of using an EV-dedicated platform, the Mercedes on the other hand uses the same mechanical platform as the petrol-engined GLA. It's for this reason that the EQA isn't as cleverly packaged, with the slightly raised floor leaving passengers' legs lifted up from the seat squabs, plus little room for their feet under the front seats.
Other than that, the Mercedes still offers plenty of headroom and a reasonable amount of kneerom, with its tall doors making it easy to get in and out of the car.
However, the EQA really falters when it comes to boot space. With only 340 litres, it's smaller than the GLA it's based on, and less even than the Volkswagen ID.3 hatchback. The rear seats do split 40:20:40, and can fold down almost entirely flat, however. Once you do so the amount of storage space in the EQA expands to 1,320 litres, but that's still significantly less than Q4 e-tron.
One rarity in the electric car market is the ability to tow. However the Q4 e-tron has a towing limit of 1,000kg, while the EQA 250 can only haul 750kg. But, if you upgrade to the more powerful 300 and 350 variants, the EQA can pull a braked trailer of up to 1,800kg.