Audi Q4 e-tron vs Mercedes EQA: range and charging
While the EQA offers a better predicted range, the Audi's impressive efficiency means it's likely to go further on a charge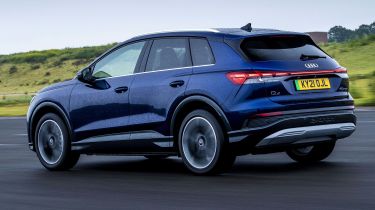 The Q4 e-tron uses the same MEB electric-specific mechanical platform as several other electric cars, including the forthcoming Cupra Born, the Skoda Enyaq iV and the Volkswagen ID.3, ID.4 and ID.5. Like those cars, while the entry-level version of the Q4 e-tron comes with a 52kWh battery and a range of around 193-208 miles, the 40-badged powertrain in our model gets a 77kWh battery for a longer 316-mile range.
The EQA on the other hand gets one battery size throughout the entire range, with all models fitted with a 66.5kWh battery. In many respects that's good, as even entry-level variants like the EQA 250 we have here in Sport trim have a maximum range of 263 miles – the same as the top-spec models.
The two SUVs achieved a little over three miles per kilowatt hour of energy used on test, which meant that the Q4 promised a real-world range of 262 miles to the EQA's 206 miles. However, when we drove it in predominantly urban areas, the Audi was hovering around the 4.2mi/kWh mark – which translates to a real-world range of 323 miles, which is further than even the Audi's official WLTP rating of 316 miles on a single charge.
Charging
While all versions of the EQA come with 100kW DC rapid charging capabilities, the mid-range Q4 e-tron 40 we have here can reach speeds of up to 125kW if you find a fast enough charging point. That means, while it will take 37 minutes to recharge the EQA's battery from 10-80%, it takes only a minute longer to top up from 5-80% in the Q4 e-tron – despite its longer range.
However, most people will be charging from a home wallbox, potentially overnight. In which case, thanks to its larger battery, the Q4 e-tron takes 11 and a half hours to fully recharge. The Mercedes does better, only slightly, taking 10 hours and 45 minutes to recharge from flat. Again, you'll need to factor in that you'll get fewer miles out of the EQA.