Peugeot e-2008 vs Hyundai Kona Electric vs Kia Soul EV: running costs and warranty
The Hyundai's long battery warranty helps it finally stand out, but all the models here promise incredibly low running costs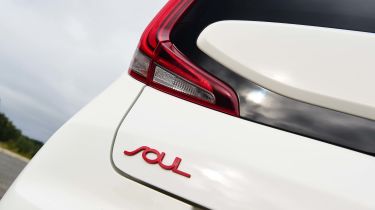 As standard, the Peugeot e-2008 comes with a three-year/unlimited mileage warranty – although the battery pack comes with an eight-year warranty (which is par for the course compared to other marques). Unfortunately, both Kia and Hyundai are industry leaders when it comes to warranties, so the French brand is outgunned.
Hyundai provides all its cars with a five-year/unlimited-mileage warranty, while Kia covers its models for seven years or 100,000 miles. Curiously, Hyundai guarantees its high-voltage battery for eight years, but Kia only provides cover for its pack for seven years, despite the two being basically identical.
Peugeot offers the standard government-grant discount on a home wallbox charger and provides six months' free access to some charging networks in the UK – which comes in handy for topping up when travelling. Compared to the near-£33,000 list price of an e-2008 in GT Line spec (after the UK government's £3,000 plug-in car grant is deducted), a couple of hundred pounds saved might seem like small fry, but such savings help keep the already low running costs very low.
The Hyundai Kona Electric was one of the first relatively affordable electric cars that promised enough range to make battery-powered motoring a genuine option for one-car households. That said, the 64kWh Premium model tested here is priced at £36,150 (again, after the plug-in grant) which is significantly more than a petrol or hybrid Kona.
When it comes to depreciation, our experts expect that after three years/36,000 miles, the Peugeot e-2008 will have held onto the most of its original value (52.2% to be precise). After which, it should be the Kona (50.1%) and then the Soul EV (41.5%). To put those figures into pounds and pence, an e-2008 will be worth around £17,000, having lost almost £16,000, a Kona will be worth roughly £18,000 having lost basically the same and a Kia Soul EV will lose a sizeable £20,000, dropping its value to just north of £14,000. 
Even though financially things look bleak for Kia's electric SUV, it's still one of the best electric cars on sale. In truth, it's not helped by only being available in First Edition trim, which costs £34,295. For comparison, a Peugeot e-2008 GT Line costs £1,380 less than the Kia and £3,235 less than a mid-range Kona Electric Premium. But the price differences are somewhat justified considering the extra range both Korean cars possess. 
Moving on to running costs, assuming charging at home on a 13p per kWh tariff, the e-2008 will cost £6.50 to charge compared to £8.73 for the bigger battery packs in the Kona Electric and Soul EV.
If you're a company-car driver, then electric cars really come into their own. During the 2020/21 tax year there's zero Benefit-in-Kind (BiK) to pay and this is only set to increase to 1% for the 2021/22 period. When that's combined with the lower cost of electricity compared to petrol or diesel, a fully electric company car becomes incredibly cheap to run.
Based on an annual 12,000 miles, the Kia will have the smallest impact on energy bills, at around £400 per annum. The Peugeot and Kia are only a short way behind at £411. One thing to watch out for, though, is that these figures will soon skyrocket if you use public rapid chargers, as they're much more expensive than charging at home.