Peugeot e-2008 vs Hyundai Kona Electric vs Kia Soul EV: space and practicality
The Peugeot e-2008 has the biggest boot here by some margin, but it comes at the expense of rear-seat space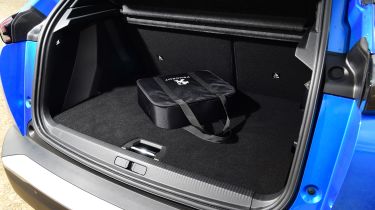 There are some useful practical touches to the Peugeot e-2008. For example, the boot is 434 litres in size (the biggest on test) and the variable-height floor comes in handy for charging-cable storage – a Type 2 cable is standard. Despite this, sitting in the back of an e-2008 soon makes you realise space is somewhat at a premium.
This lack of room is especially apparent compared to the Kia Soul EV, which feels the most spacious inside and has rear doors that make it easier to get in and out of the back. Peugeot isn't alone in its struggle to match the Soul EV's impressive practicality, as when it comes to space the Hyundai Kona Electric is closer to that of the Peugeot than the Kia. Even then, the Kona's rear seats feel tighter than those in an e-2008.
Hyundai does pull one back over its sister brand, though, as the Kona's boot is 17 litres larger than the Soul's (332 vs 315 litres). Modest gains, perhaps, but comparison of the two South Korean cars often comes down to small margins. Irrespective of this, those looking to carry a buggy around (or golf clubs, depending on lifestyle choices) will find the Peugeot's large boot makes things easier – providing its shorter range is not an issue.
While the Kona is the shortest car on test, this lack of length translates to good manoeuvrability, although neither rival is any harder to park. To help with slotting cars into tight spaces, both the Hyundai and Peugeot come with a parking camera and all-round parking sensors, while the Kia makes do with rear-only sensors, but does also come with a reversing camera.
Even though it's behind its rivals in terms of parking assistance, the Soul feels (in some ways) less of a compromise, as it has been designed solely as an electric vehicle. As a result, the interior maximises available space, providing more storage for the kind of bric-a-brac cars regularly carry. Having a large, square body is a bonus, too, as it provides good headroom. Plus, the higher ride height and big windows ensure visibility is strong.