Peugeot e-2008 vs Hyundai Kona Electric vs Kia Soul EV: interior and infotainment
The Kia Soul EV again makes ground on its rivals here, but the Peugeot e-2008 isn't far behind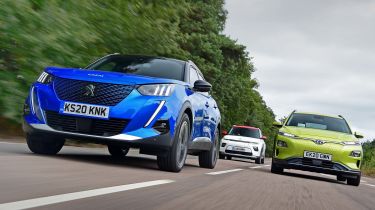 Peugeot is pipped at the post by Kia when it comes to interior quality – at least for these two models, anyway. The Peugeot e-2008 cabin is still a nice place to be, what with its smart design, but Kia's greater use of soft-touch materials makes it a hard act to beat. This could well be expected, considering the Kia's higher list price. In contrast, the Hyundai Kona Electric is the most expensive car here, yet it offers the lowest-quality cabin. Its shiny plastic trim looks (and feels) cheap compared to the more upmarket materials in its rivals' interiors.
Updates are due for the Kona Electric in 2021 on top of the previously mentioned range-boosting updates it received in 2020. An upgraded infotainment system (that includes a bigger 10.25-inch screen) and subtly revised styling are expected to be the biggest changes.
Looking at the cars from the outside, each has very different styling. The e-2008 is quite fashionable-looking and subtly deviates from its petrol and diesel-powered siblings thanks to a unique front grille and some alternative trim. Apart from that, though, things are quite similar.
The Kia Soul EV is only available as an electric car, so doesn't have a combustion-engined version to be compared to, but it sure looks nothing like the competition here. Whether or not 'different' equals better will be very much down to personal preference. As for the Kona, it ticks the funky looks box quite nicely, and although the styling is undeniably similar to the petrol and hybrid versions, its alternative grille does change its appearance somewhat.