Peugeot e-2008 vs Hyundai Kona Electric vs Kia Soul EV: verdict and specifications
Every car here has its merits, but despite its higher price, the Kia Soul EV is our pick of the bunch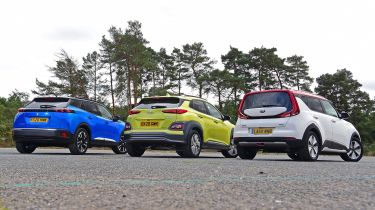 1st: Kia Soul EV
Despite being more expensive than the Peugeot, Kia's electric Soul is the winner here with its better efficiency, impressive kit list, smooth driving dynamics and roomy cabin proving too much for the e-2008. Granted, the Soul is down on boot space, but it still promises enough for most motorists' requirements. Furthermore, the Kia's strong electric-car credentials, such as better range and regenerative braking features, help it clinch victory, too. All in all, it's a great buy.
2nd: Peugeot e-2008
While the e-2008 might not have the range or flexibility of a Kona Electric, its better practicality (larger boot and roomier cabin) and lower price mean it takes second place. What's more, bonuses such as free charging for six months are a plus. Providing the shorter range is bearable, the e-2008 is a well engineered electric car that'll suit those with a slightly tighter budget.
3rd: Hyundai Kona Electric
It's hard to fault the Kona Electric for its range or performance (after all, it shares much of its hardware with the winner) but it's the most expensive car here by some distance. It's also less practical than the Peugeot and not as well equipped as the Kia. Another mark against the Kona is its somewhat bland interior. It'll still be incredibly cheap to run and is an appealing electric car, but its rivals offer more value for most motorists.
Specifications
| Car | Kia Soul EV First Edition | Peugeot e-2008 GT Line | Hyundai Kona 64kWh Premium |
| --- | --- | --- | --- |
| List price/price as tested | £34,295/£34,295 | £32,915/£34,040 | £36,150/£36,150 |
| Engine | Electric motor | Electric motor | Electric motor |
| Transmission | Single-speed, front-wheel drive | Single-speed, front-wheel drive | Single-speed, front-wheel drive |
| Battery capacity (total / usable) | 67/64kWh | 50/45kWh | 67/64kWh |
| Power / torque | 201bhp / 395Nm | 134bhp / 300Nm | 201bhp / 395Nm |
| 0-62mph | 7.9 seconds | 8.5 seconds | 7.9 seconds |
| Top speed | 104mph | 93mph | 104mph |
| Annual electricity cost (12k/20k miles) | £411 / £684 | £400 / £667 | £411 / £684 |
| Charging speeds | 2.2 / 7.2 / 50 /100kW | 3 / 7 / 50 / 100kW | 2.2 / 7 / 11 / 50 / 100kW |
| Charging times | 31h / 9h 35m / 1h 15m / 54m | 24h / 7h 30m / 50m / 30m | 31h / 9h 35m / 7h 30m / 1h 15m / 54m |
| Official CO2 / electric range | 0g/km / 280 miles | 0g/km / 306 miles | 0g/km / 300 miles |
| On-test efficiency / electric range | 3.9 miles per kWh / 250 miles | 3.8 miles per kWh / 171 miles | 3.8 miles per kWh / 243 miles |
| Road tax / BiK rate  | £0 / 0% |  £0 / 0% | £0 / 0% |
| Length / height / width / wheelbase | 4,195 / 1,605 / 1,800 / 2,600mm | 4,300 / 1,550 / 1,770 / 2,605mm | 4,180 / 1,570 / 1,800 / 2,600mm |
| Boot capacity (seats up/down) | 315 / 1,339 Iitres | 434 / 1,467 litres | 332 / 1,114 litres |