Triple test: Peugeot e-2008 vs Hyundai Kona Electric vs Kia Soul EV
The e-2008, Kona Electric and Soul EV show that a discerning electric-car buyer can have style, practicality and plenty of range – but which is the best buy?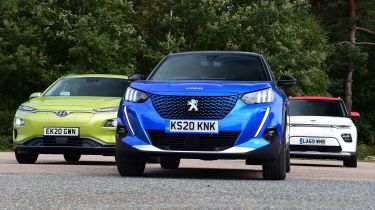 Electric cars are on the up. SUVs and crossovers continue to be popular. It's perhaps little surprise, then, that car manufacturers are making electric SUVs and crossovers such as the three being pitted against each other here. On paper, the concept of a high-riding fully electric car makes a lot of sense; after all, they naturally have space in their floors to keep a large battery pack.
And while petrol or diesel SUVs are ten a penny, they often feature conservative styling. The new breed of electric alternatives is the opposite; they're not all that common on UK roads but can look quite different thanks to foregoing certain features commonplace on traditionally fuelled cars. Think items such as exhaust pipes and radiator grilles. In some cases, for example, the Kia Soul EV, these battery-powered crossovers are borderline funky looking. 
That said, models such as the Peugeot e-2008 and the Hyundai Kona Electric do have conventionally fuelled siblings and the differences between stablemates can be subtle. Regardless, when it comes styling all three contenders tested here look quite striking, but it's perhaps their promises of efficiency, environmental friendliness and low running costs that will appeal most. The question is, though, which one of the three delivers best on these claims?
Peugeot e-2008
Pros: Keenly priced, good practicality, smart looks
Cons: So-so infotainment, uninspiring to drive, outgunned for range
Hyundai Kona Electric
Pros: Great range, well equipped for the price, stylish image
Cons: More spacious rivals, interior a tad vanilla, weight hampers driving experience
Kia Soul EV
Pros: Great to drive, plenty of range, lots of technology
Cons: Uninteresting interior, slightly firm ride, some rivals more practical
Hyundai and Kia have a good track record with battery technology and that shows when looking at the snapshot pros and cons above. Does that make the Kona Electric and Soul EV clear favourites? Well Peugeot's e-2008, a more recent arrival on the market, has a thing or two to say for itself first. Read on to find out which one of these high-tech electric SUVs reigns supreme…