Vauxhall Corsa-e vs Renault ZOE: space and practicality
The Renault ZOE is the more practical choice here; the Corsa-e has less room for passengers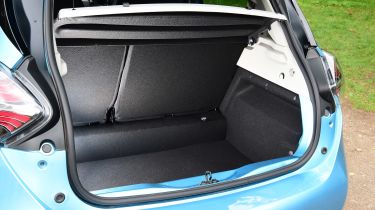 As with many electric models that are related to petrol and diesel cars (in this case the normal Vauxhall Corsa and the Renault Clio), these two electric superminis aren't quite as spacious as they could be because of their big batteries.
The ZOE is a clear winner overall, though, because it makes better use of its interior space. The boot is a good example: at 338 litres with the rear seats in place, it's quite a bit bigger than the Corsa-e's 267-litre space. Fold the seats down and you can open up 1,225 litres in the Renault, or 1,076 litres in the Vauxhall.
The ZOE also has the advantage for passenger space. There's more leg and headroom available in the back seats, although you sit lower down in the Corsa-e, which can be more comfortable for some people. There's not really enough room for adults to do long trips in the back, but that's fine in these city-focused models.
For interior storage, the cars are evenly matched. Both have big door bins and a tray for your mobile phone near the gear selector on the centre console.