Twin test: Vauxhall Corsa-e vs Renault ZOE
Which of these two electric superminis makes the most sense for urban living, commuting and family life?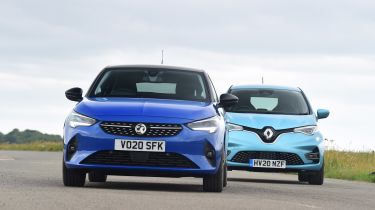 If you live in the city, or even just in a big town, a supermini like the new Vauxhall Corsa-e or Renault ZOE is bound to be on your shopping list. These models are small enough that they're easy to drive through traffic and park in crowded car parks, yet practical enough to live with every day.
Buying an electric supermini brings all the benefits of the class, and you'll never have to visit a petrol station again. These models are engineered to have just enough range to be usable every day, so long as you're able to charge up regularly – which is easy in a big city.
The Renault ZOE is the car that the Vauxhall Corsa-e has to beat, as it has strong charging tech, decent range, lots of standard kit and a quiet driving experience. The Vauxhall needs to match this to be competitive, and that's what we'll find out here. Read on to find out which electric supermini makes the more convincing case for itself as a city commuter and family car.
Vauxhall Corsa-e
Pros: Fast charging, fun to drive, decent range
Cons: Not as comfortable as the ZOE, trails on space, lower-quality interior
Renault ZOE
Pros: Cheap to run, high-quality interior, spacious interior and boot
Cons: Could be more fun, slower than Corsa, 50kW max charging rate
Brits love their superminis; they feature in the top ten best-selling cars regularly. It might not be too long before electric superminis like these start to appear there, so get ahead of the game and find out below which is best for you.