Vauxhall Corsa-e vs Renault ZOE: performance and handling
While both cars are nippy and easy to drive, the Corsa-e is a bit more fun and the ZOE is more comfortable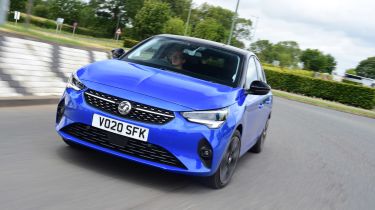 These cars have very similar performance, because the Corsa-e has a 134bhp electric motor and the ZOE has just 1bhp less. The Vauxhall's motor has a bit more torque, however, so it's slightly quicker.
The 0–62mph sprint takes 8.1 seconds in the Corsa-e, which is 1.4 seconds faster than its rival. From 0–30mph the Vauxhall takes 2.8 seconds and the Renault takes 3.6 seconds. It's noticeable from behind the wheel that the Vauxhall is punchier, but as with all electric cars, they both pick up quickly when you want them to.
On the motorway both have enough performance for easy overtakes but this isn't the natural home of the electric car; range drops quickly if you're at high speed for a length of time. In both models there's little motor whine and not much wind noise, and at low speed there's very little noise at all in the cabin.
The Corsa-e isn't as comfortable as the ZOE, however. It's okay around town, but on bumpy roads it can't keep up with the Renault, which boasts a more comfortable suspension set-up. There's more body roll in the ZOE as a result but neither is a sports car, so we prefer the softer ride.
Still, for those who love to drive, the Corsa-e has its benefits: you sit lower in the car and there's less body roll in corners. With the more powerful motor, it's the more fun model here and still pretty comfortable on most roads. Both cars have light steering but the ZOE's is weighted a bit better.
The new Corsa-e features three driving modes: Sport, Normal and Eco. The latter limits things like climate control and motor output to maximise the car's range. Many EVs have this kind of mode and while it's unpleasant to drive in, it can be useful in a pinch.
You can also choose how much regenerative braking effect you want when you lift off the throttle. It's most aggressive in B mode, letting you lift off instead of using the brakes in many situations. It won't come to a rest on its own, so you'll still have to change pedals to stop.